Besides being the top social media site for sharing photos, Instagram is also enormously popular among businesses to promote their product or services. In fact, it is the number one social media site for WooCommerce retailers like you to connect with your customers.
If you have a WooCommerce store and are not yet promoting on Instagram, you better check out these statistics.
Almost 90% of Instagram's user base follows at least one business or eCommerce brand.
Every month, more than 130 million Instagram users engage with product links and shopping posts.
About 70% of Instagrammers actively search for products on the app before finalizing their purchase.
In 2023, roughly a third of Instagrammers are anticipating making purchases directly within the app.
Instagram users are 54% more likely to buy something they saw advertised on the platform/app.
The above statistics affirm how effective Instagram can be for a WooCommerce retailer like you. However, uploading and creating product posts on Instagram are not as simple as uploading a general photo.
You need to know your way through to successfully list and display your products. Most importantly, you will need to create an Instagram product feed for your WooCommerce products.
In this article, we will discuss Instagram eCommerce features and walk you through the steps to connecting and promoting your Woo products on Instagram.
Table of Contents
How to Promote Products on Instagram
Instagram offers a number of ways for eCommerce brands to promote their products on the platform. Instagram calls its eCommerce features Instagram Shopping.
Along with a business profile, you can create shoppable posts, tags, and reels and list your products on a dedicated shop and for general discovery on the platform.
As an online shop owner, you can choose to redirect the customers from Insta posts to your Woo product pages or let them directly check out from the Instagram app. Let's find out in detail.
Instagram Shop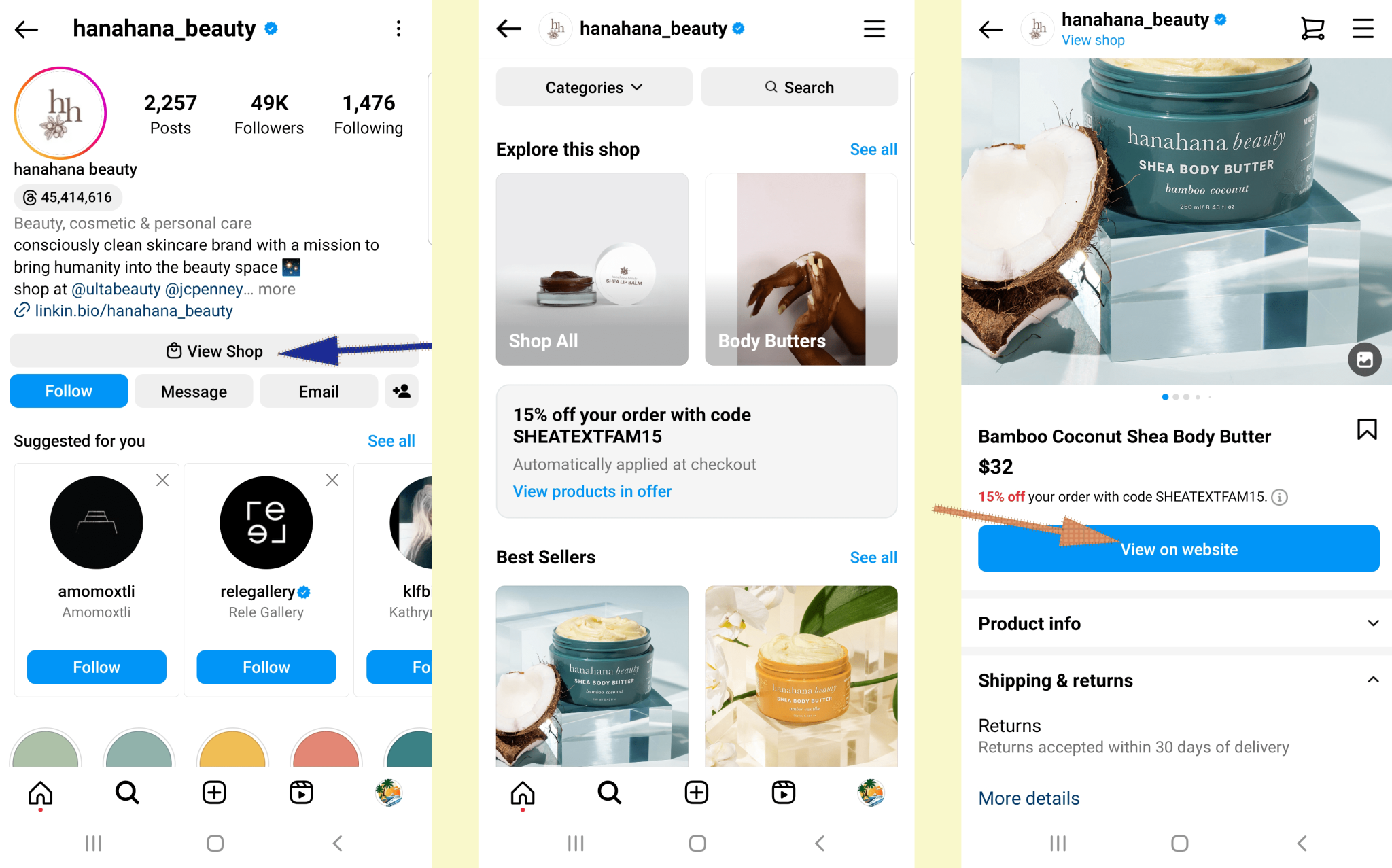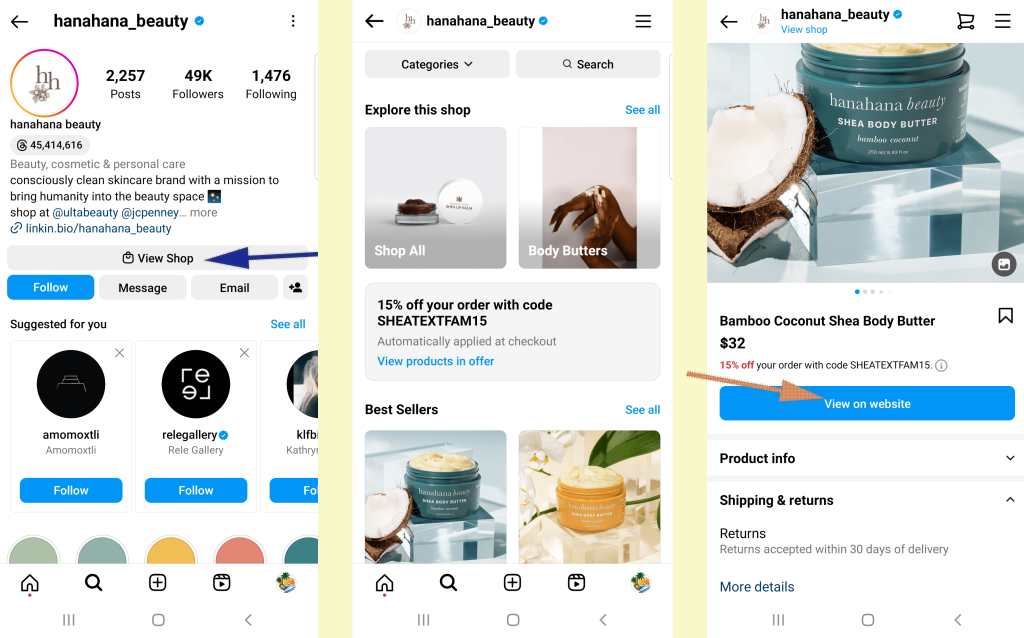 Instagram Shop looks and functions similar to your WooCommerce Shop page. It is a dedicated storefront within your Instagram business profile.
On the shop page, you can display your featured products, best sellers, or on-sale products. You can also display special offers or discounts and organize the products according to your WooCommerce categories as well.
Users can also search your shop using different filters. They can visit the product detail page by clicking on any of the listings.
What and how Instagram will display on the shop page will depend on what you provide in your Instagram shopping product feed.
Shoppable Tags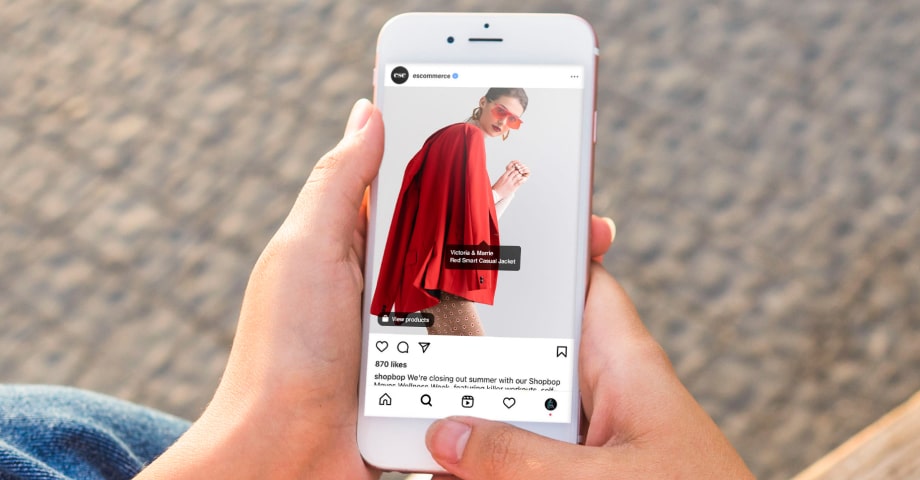 This is what turns any Insta post into an eCommerce product post. You can tag your products on the image you post and make them shoppable.
This means when a user taps on the tag of the photo of your post, they will be redirected to your product details page. From there, they can land on your product page or finish the purchase from the app.
Remember, you must have an Instagram product feed uploaded to Commerce Manager and a Shop in your profile to tag posts. You can tag up to 20 products and shops in an Instagram feed post.
Instagram allows you to tag products in both new and old posts. On a carousel post or on a post with up to 10 media files (video and images), you can use a total of 20 tags for all those media files combined.
Influencers can also tag your products on their posts. Instagram is the top channel and first choice of businesses like yours to hire influencers to promote your brand and increase sales.
Product Detail Page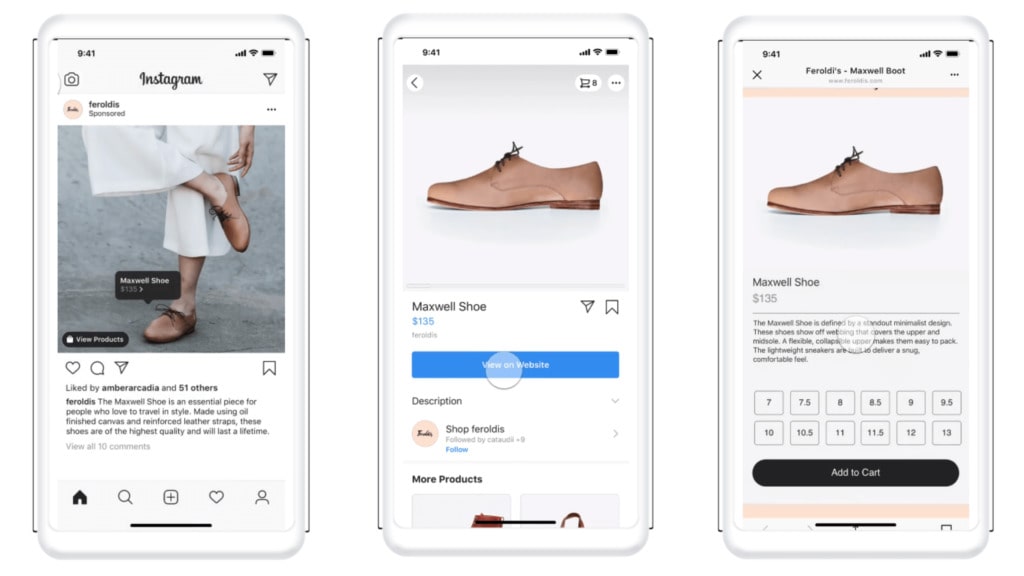 Instagram displays product details in a manner similar to your Woo product detail pages. It shows important details, such as price, title, description, image gallery, shipping details, related products, etc.
It also displays your product variations such as color, sizes, etc. You can either enable direct checkout, or Instagram will show a View on Website button, which will take your customers to your product page.
This proves how Instagram prioritizes eCommerce brands like you to sell products on the platform. You can significantly increase your sales and grow your business through the platform.
Collection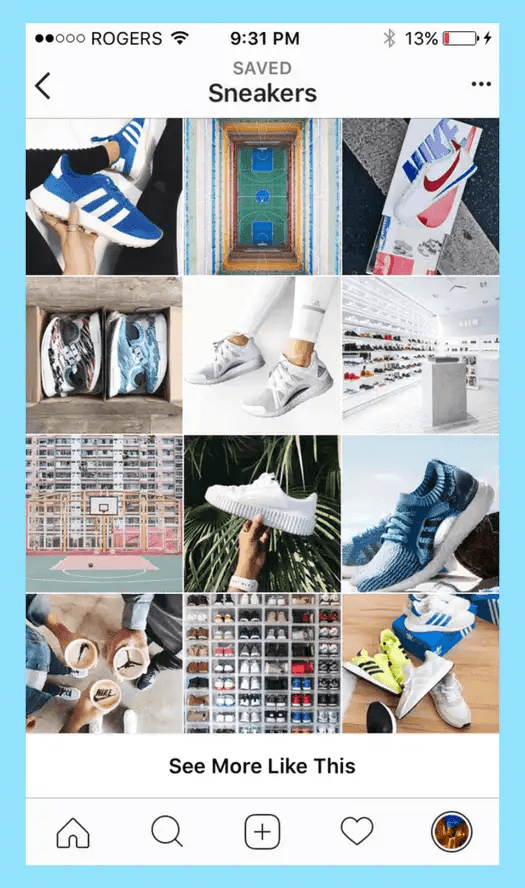 The collection is similar to your WooCommerce store's product categories or category pages. For example, you have a winter collection, summer collection, etc., on your website.
Similarly, you can group your products under collections on Instagram. If you want to display your WooCommerce categories or grouped products on Instagram, you will need to upload them through a product Instagram feed.
Shop Discovery tab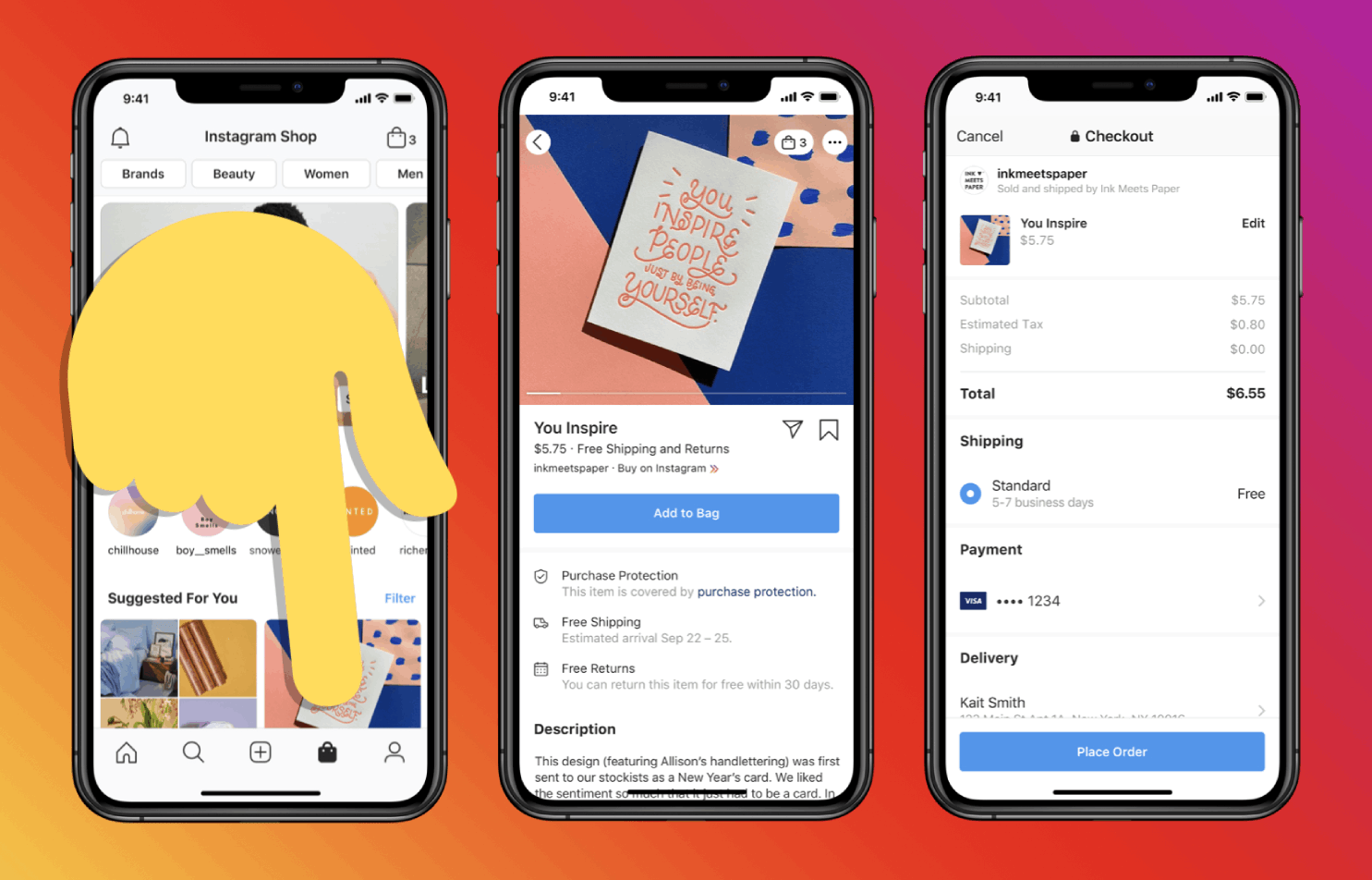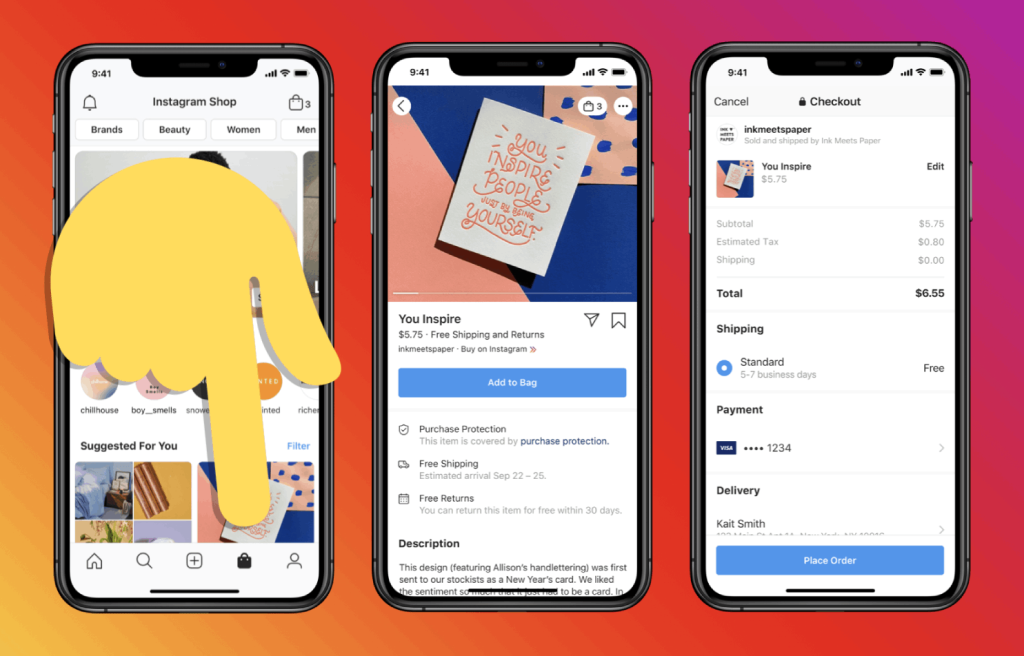 On the Instagram app, users can also find a bag icon, which is called the Shop Discovery tab. This tab displays products from different brands and shops.
The Instagram Discovery tab is tailored to individual users. The products they will see are based on their preferences, past interactions with businesses on the platform, and shopping history.
The Shop Discovery section of Instagram allows you to promote your products and attract more customers. Your chances of being featured in the Shop Discovery tab rise when you optimize your profile, product listings, and user engagement.
Most importantly, you need to upload a well-optimized WooCommerce Instagram product feed to get discovered on this tab. Therefore, we must learn what an Instagram product feed is and how to connect a product feed to an Instagram account.
What is A WooCommerce Instagram Product Feed?
A product feed is a data sheet file that contains all of an eCommerce store's product information. You will see product data inserted under different characteristics such as price, description, title, brand, availability, etc.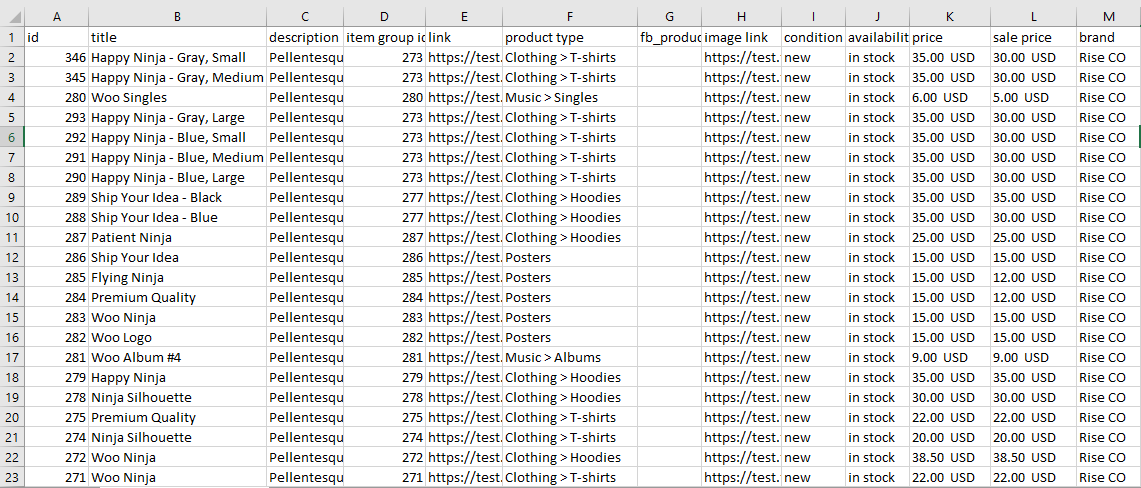 You can use a product feed to connect and display your WooCommerce products across multiple channels online. For example, you can display your products on Amazon, Google Shopping, Facebook, Instagram, Bing, etc.
You must have a feed file or Instagram bulk product feed to create a shop on Instagram, create shoppable posts, tag any product, or create Instagram product ads. A product feed simplifies the process of listing and displaying products on different channels for you.
You can significantly expand your reach and conversions through these files. We should mention that you don't need to create separate feed files for Instagram and Facebook. Both these platforms have a common control panel for managing feed and eCommerce promotions called Meta Commerce Manager.
Necessary Attributes of An Instagram Product Feed
All marketplaces, price comparison engines, and social media sites that support a product feed have different sets of attributes and guidelines for you to follow. Now, what are the attributes in a feed file?
The characteristics we talked about earlier, such as title, price, IDs, etc., are called attributes. Here are the necessary attributes of an Instagram product feed.
Product ID: Unique number for precise product identification.
Title: Descriptive name for the product.
Description: Brief, informative product summary.
Product URL: Web address of the product on your website.
Image URL: Web address of the product image.
Price: The cost of the product.
Availability: Indicates if the product is in stock or not.
Condition: Specifies if the product is new, used, or refurbished.
Brand: Name of the product's manufacturer or source.
How to Create An Instagram Product Feed
Creating a product feed can be a straightforward process. Simply collect the attributes, insert them in a spreadsheet tool, and copy-paste product data underneath.
However, this manual process is not for WooCommerce stores like yours. Manually creating a feed can create a number of challenges, and you can end up losing customers instead of gaining them.
Let's check out some of the challenges you may face when creating the feed manually.
Time-consuming: Creating an Instagram product feed manually can be very time-consuming, especially if you have a large number of products. You need to create a separate CSV file for each product category, and each file must contain all of the required information, such as the product name, description, price, image, and link.
Error-prone: It's easy to make mistakes when creating an Instagram product feed manually. For example, you might accidentally enter the wrong price or link, or you might forget to include a required field. This can lead to your products being rejected by Instagram, or to them appearing incorrectly in your Instagram shop.
Difficult to keep up with: If you add new products to your inventory regularly, it can be difficult to keep your Instagram product feed up to date. You need to manually add new products to the CSV files and upload them to Instagram.
Overall, creating an Instagram product feed manually is a time-consuming and error-prone process. It's also difficult to keep up with if you have a large number of products or if you add new products to your inventory regularly.
To avoid these problems, you can use a product feed management tool or plugin. Product feed management tools automate the process of creating and uploading Instagram product feeds. They also help you to ensure that your feeds are accurate and up-to-date.
Creating A WooCommerce Instagram Product Feed Using A Plugin
The greatest advantage of WordPress WooCommerce is you can find an extension or plugin for just about any task. There are a number of product feed plugins available on the market to create WooCommerce Instagram product feeds.
Among them, CTX Feed is the most popular one we found. This plugin automates the whole feed generation and management process. You can create a WooCommerce Instagram product feed in just two clicks.
CTX Feed has dedicated templates for Facebook and Instagram and also for 130 other channels. These templates have all the guidelines and attributes installed in them. The plugin also does the copy-pasting product data automatically for you.
Most importantly, it has automatic updates on fixed intervals and URL connection options. Let's quickly create a feed file.
You can install the free version from the Plugins repository.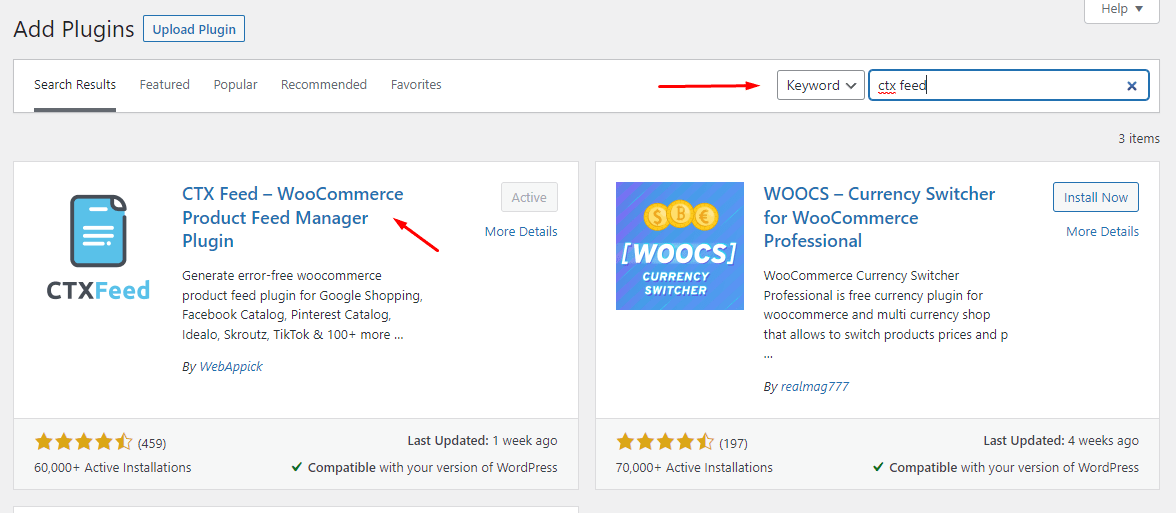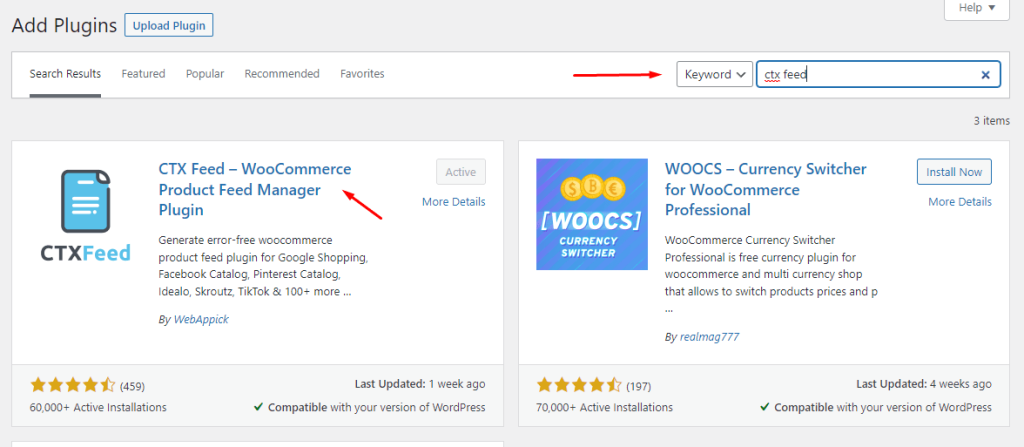 Click the following menu item to start.

Select the Instagram template, and the plugin will populate all necessary attributes automatically.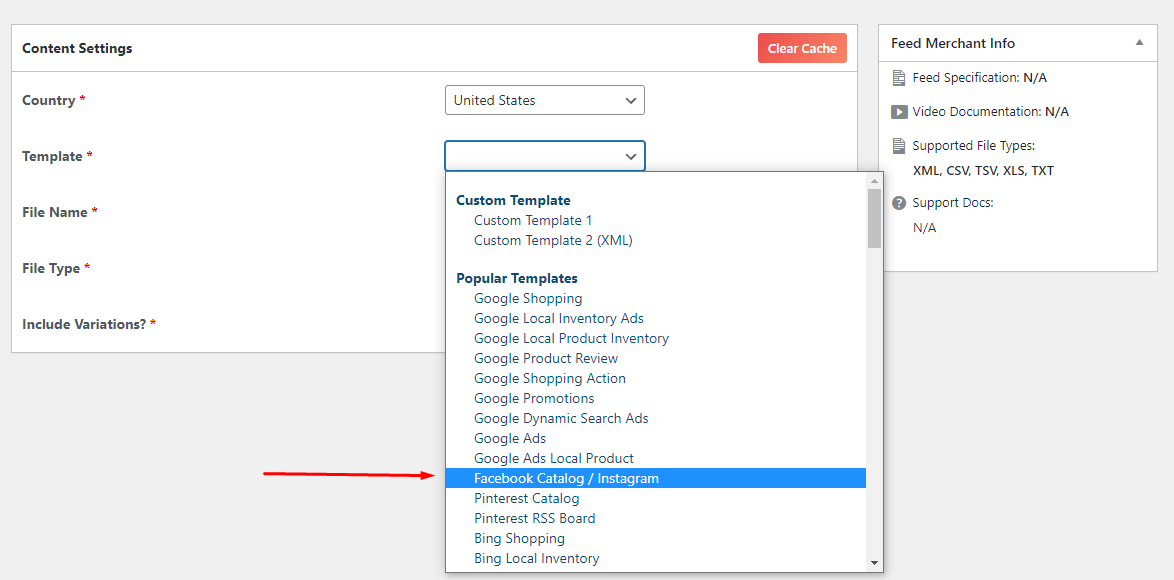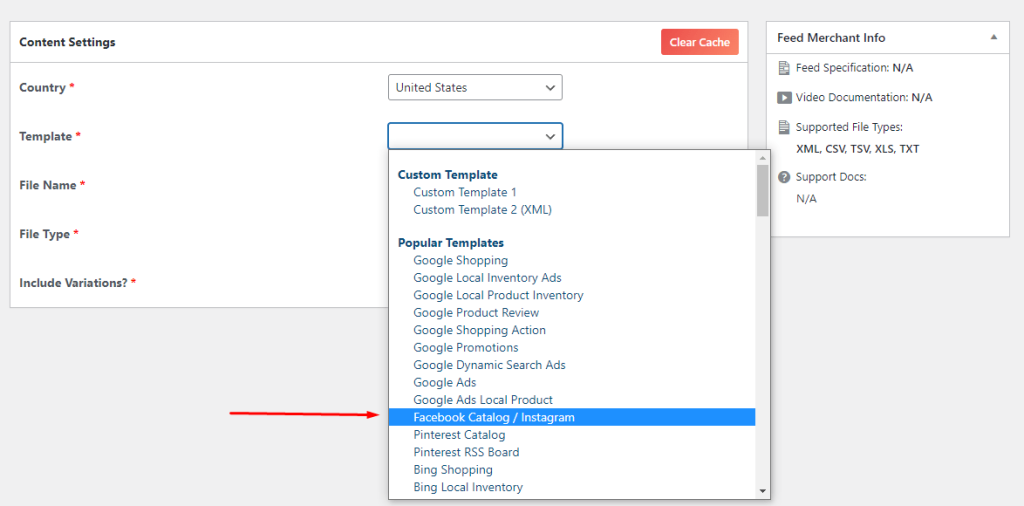 Here's how it looks after selecting the template and file type.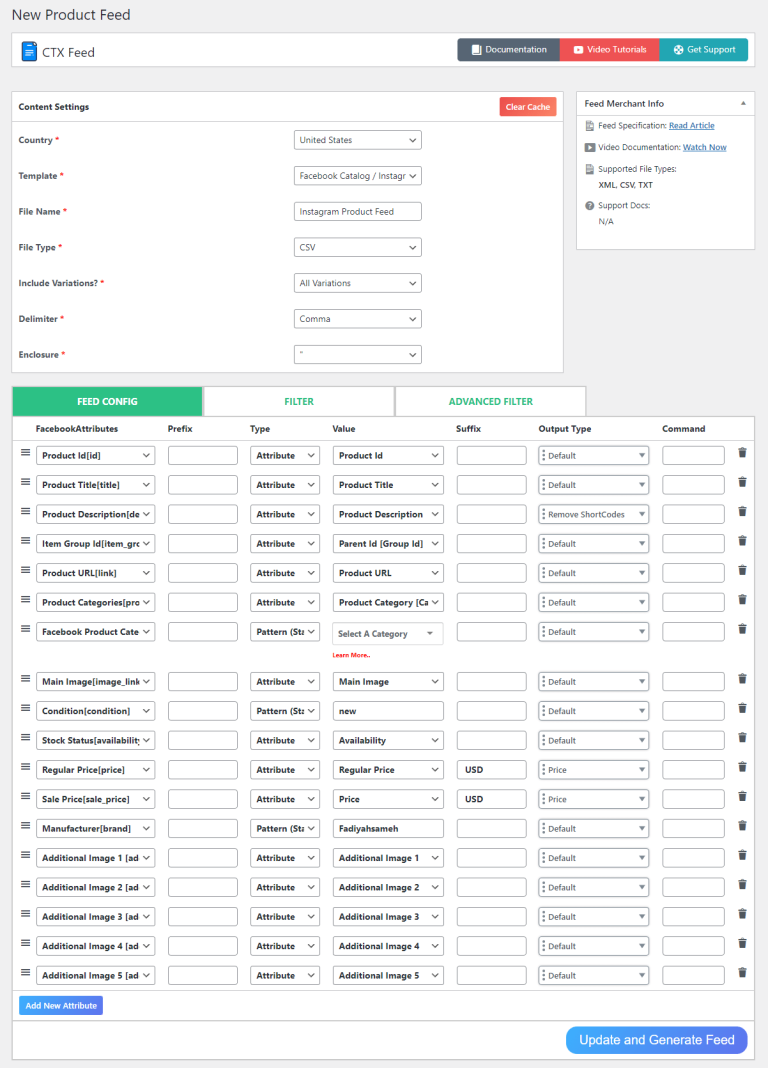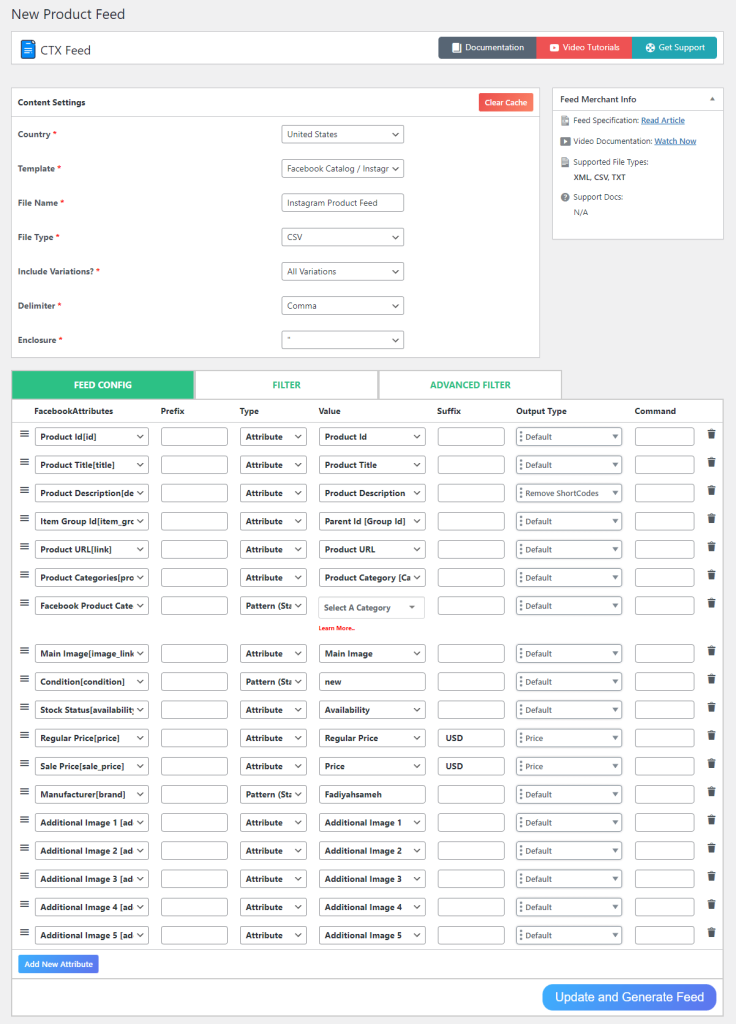 Clicking the generate button will end the process, and the plugin will create the feed for you, which you can find on the Manage Feeds page. From this page, you can also set automatic update intervals.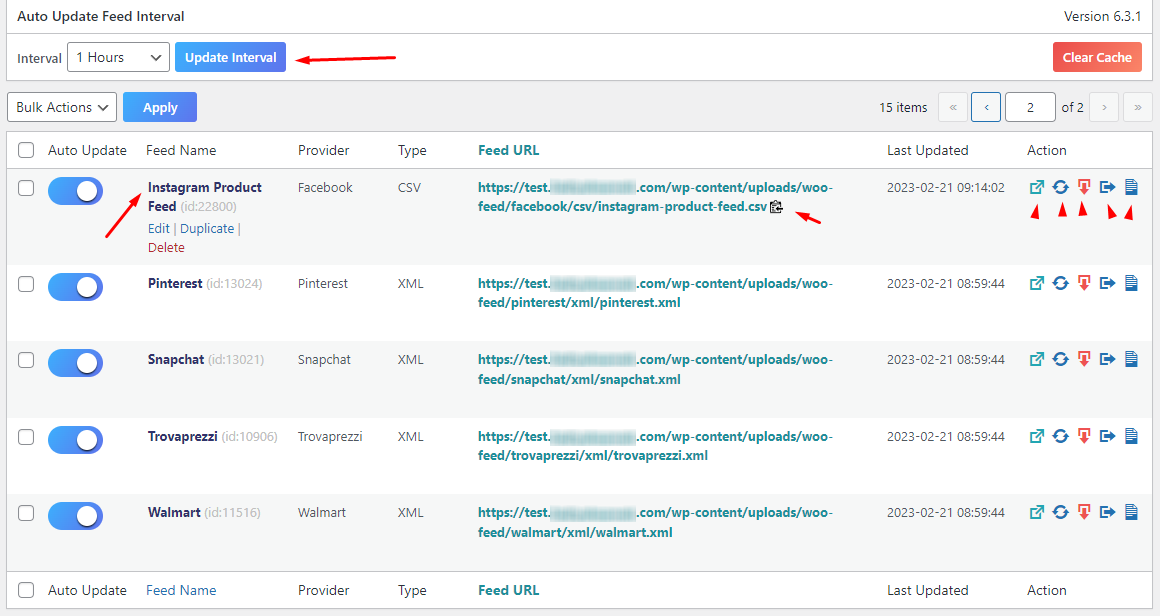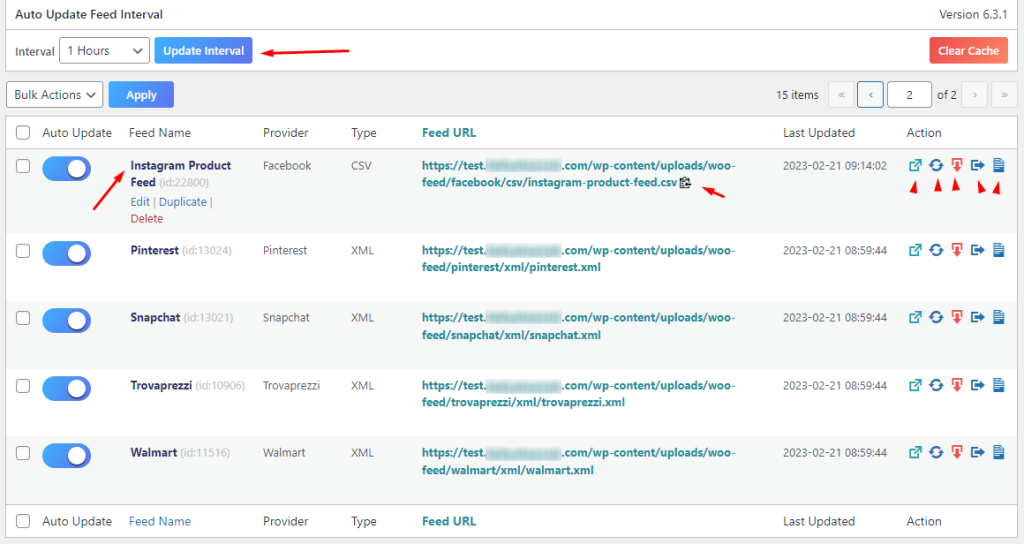 You can now copy the feed URL or edit, delete, download, etc., your WooCommerce Instagram product feed. So now, you must be wondering how to add products to my Instagram feed.
You will need to follow a number of steps to list your Woo products on the platform. Let us walk you through them.
How to Display WooCommerce Products on Instagram
Here's the list of things you need to do to display your products on Instagram –
Make sure you are eligible
Turn your Insta profile into a business account
Connect that account to a Facebook page
Create a catalog on Meta Commerce Manager
Upload Instagram product feed
Submit the account for review
Let's start with the eligibility requirements.
Eligibility Requirements for Instagram Shopping
Your business needs to be eligible to be promoted on Instagram. Here are the requirements for a WooCommerce store –
Location requirement: Your business needs to be situated in one of the supported markets/countries.
Physical address: Instagram requires a verifiable physical address to ensure the legitimacy of your business.
Accessible website: Your business should have a website where customers from supported countries can make purchases.
Product eligibility: The products you sell on Instagram must be legal, genuine, and in good condition.
Account type: Your business needs to have a business or creator account on Instagram.
Product catalog: You should create a product catalog listing all your items in Instagram's Commerce Manager.
Verification process: Instagram will verify that your business is legitimate.
Compliance with policies: Ensure that your Instagram business account follows Instagram and Facebook's terms, conditions, and guidelines.
Creating or Converting An Instagram Profile Into a Business Account
You can create a business account on Instagram with your official email and business details. On the other hand, if you already have an account, you can switch to a business account.
To do so, follow these steps –
Login to your profile and tap the three horizontal lines to go to Settings and Privacy.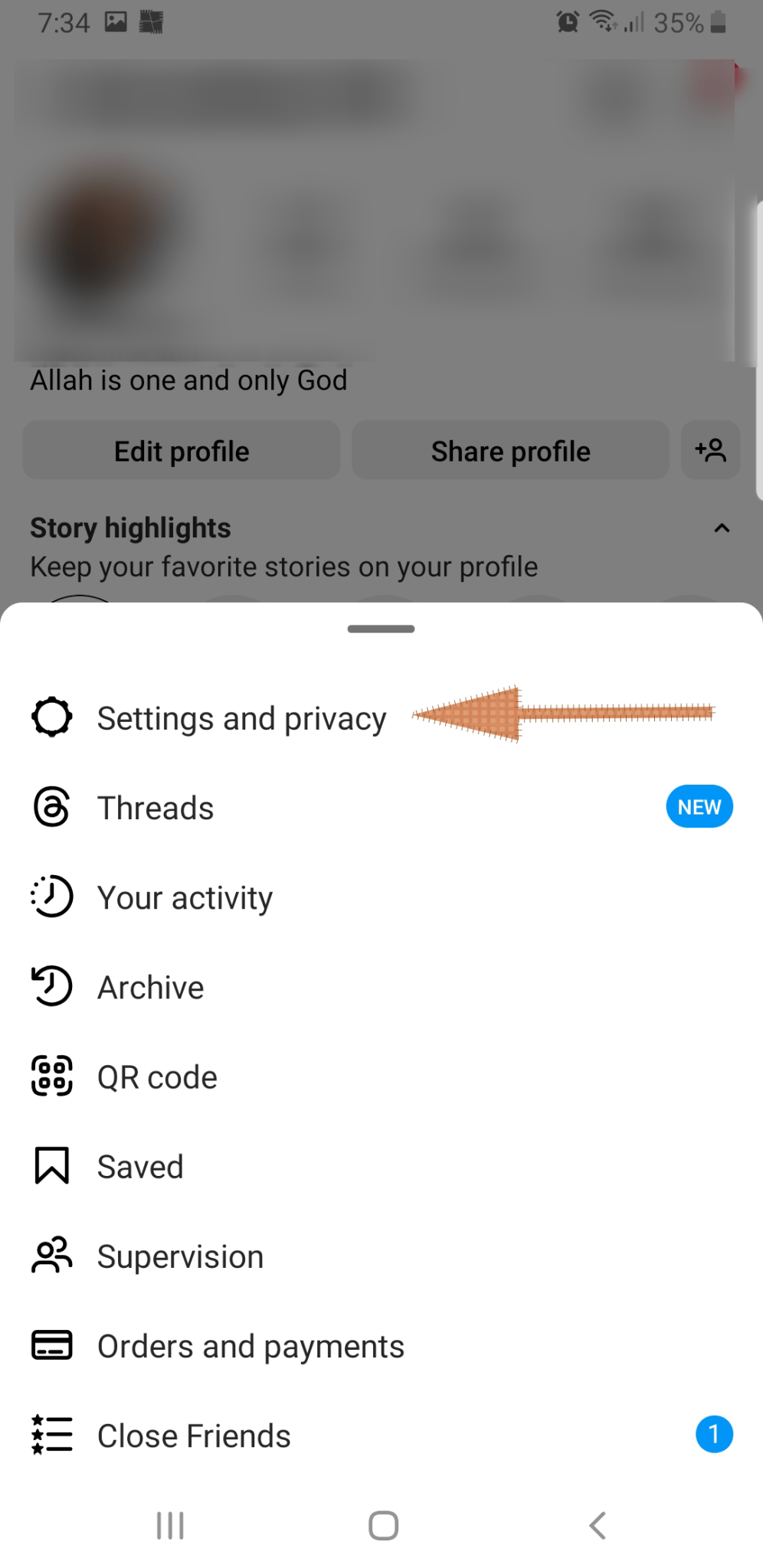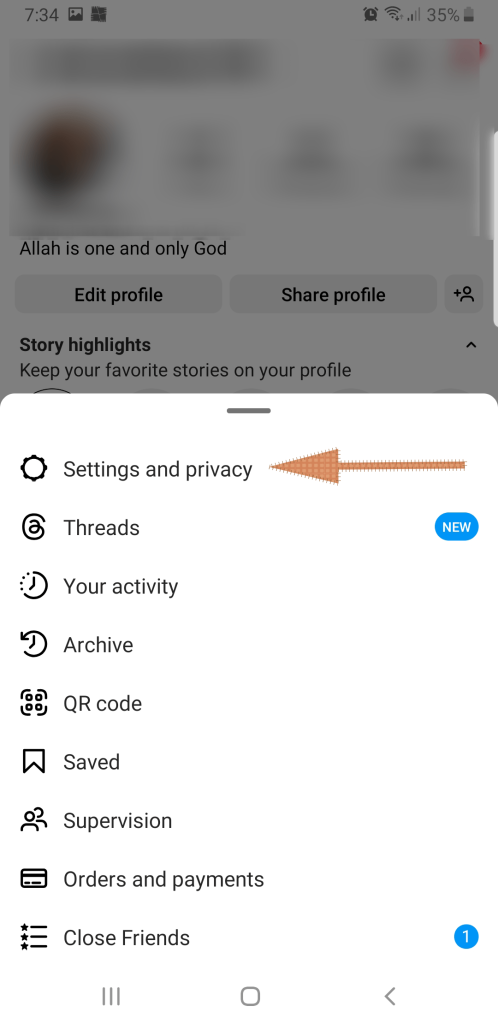 Inside settings, tap on Account Type and Tools.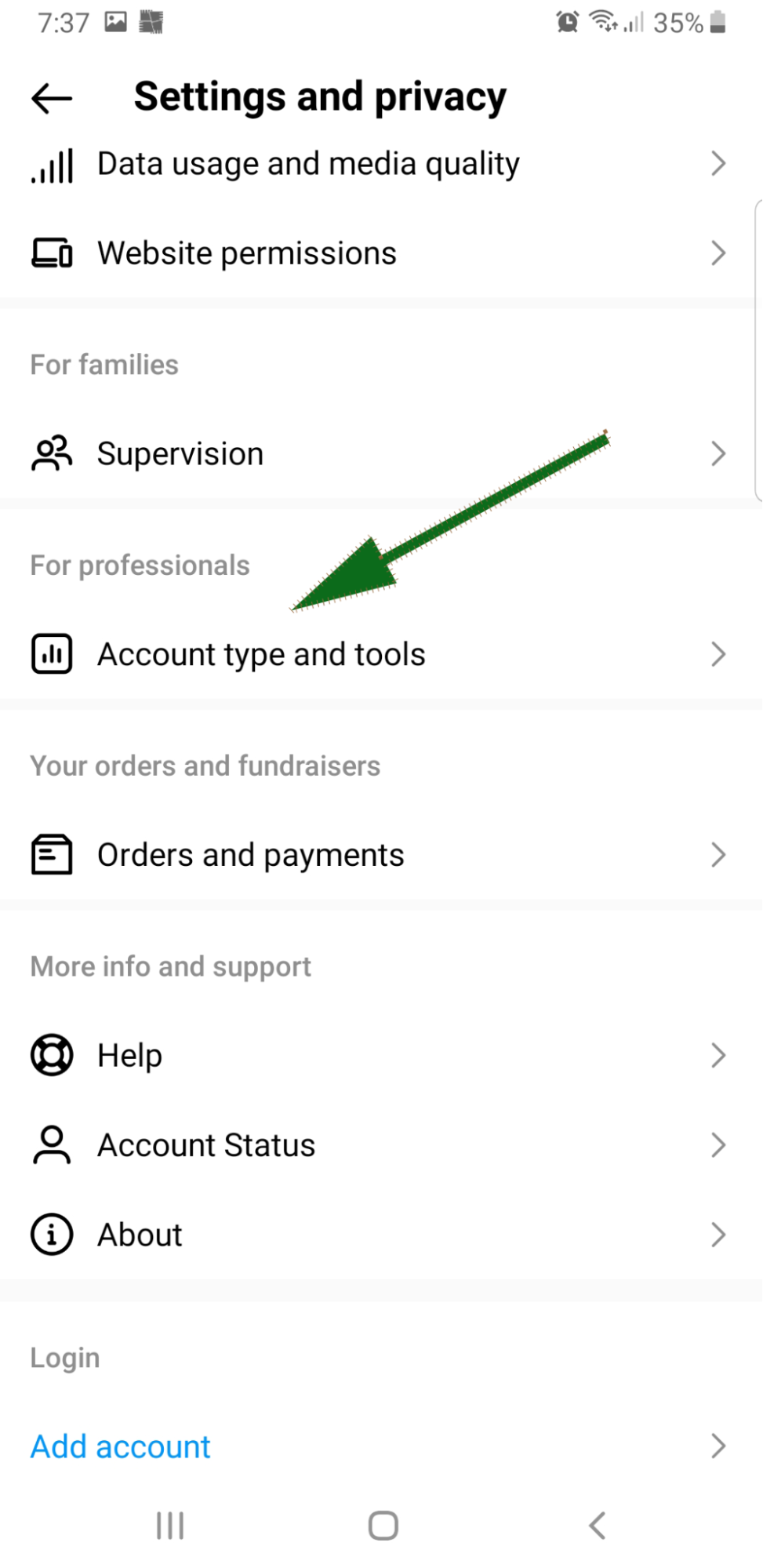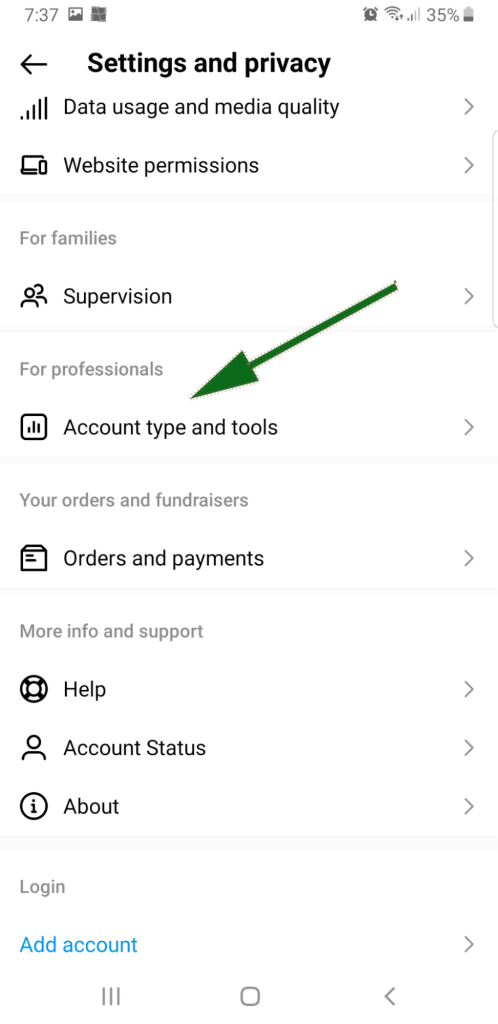 Tap on Switch to Professional Account.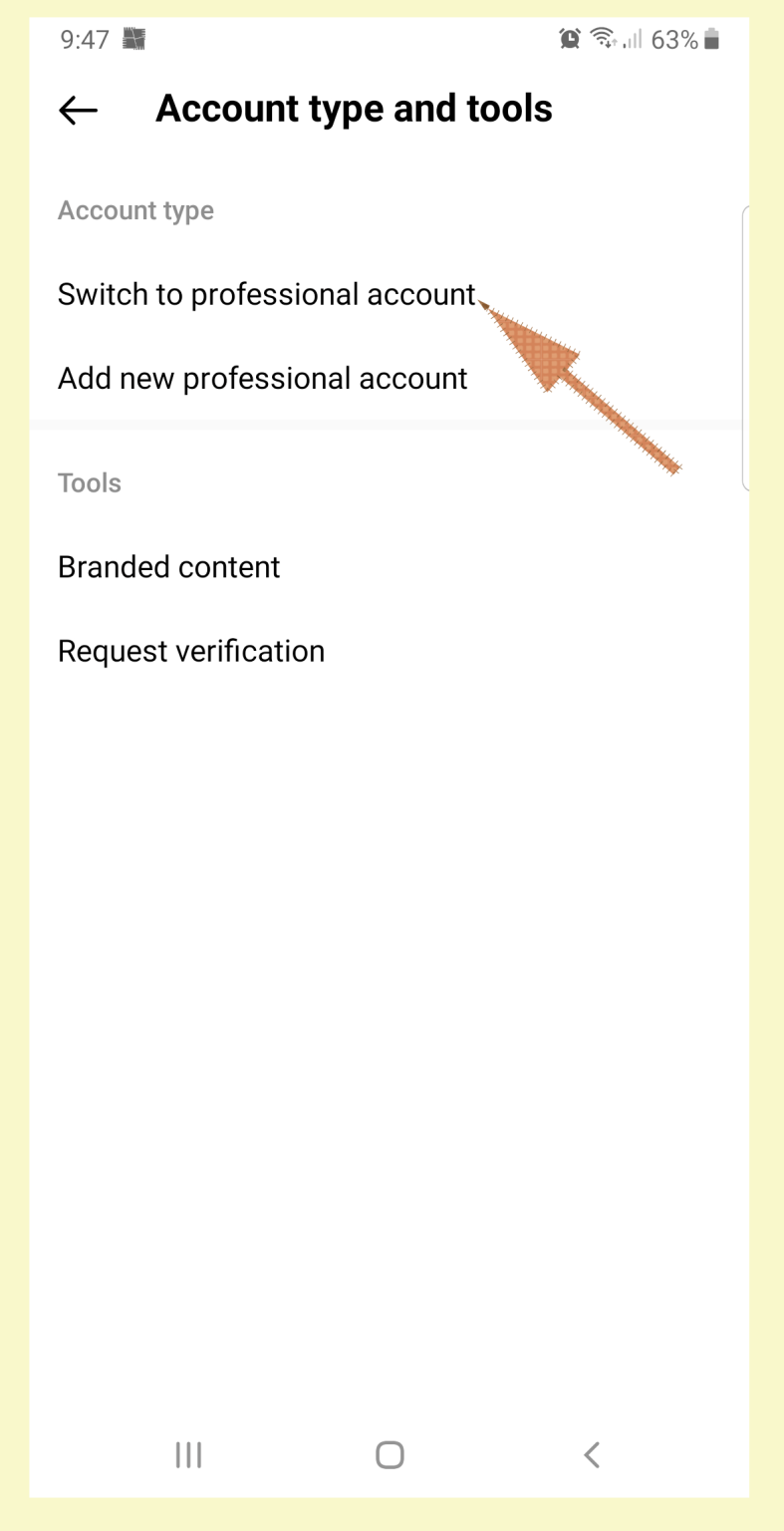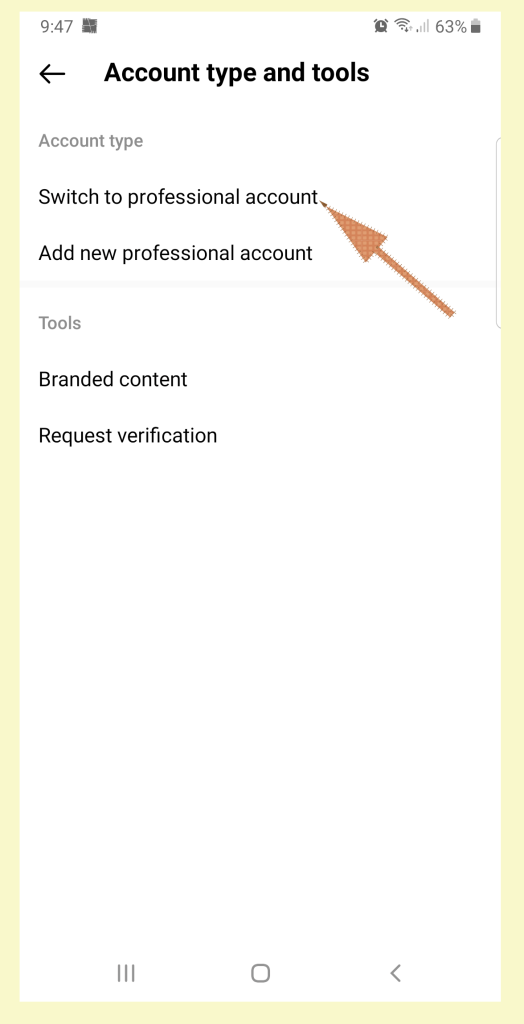 Instagram will ask you for your eCommerce business details, type, and category and, finally, will convert your account to a business one.
Connecting to A Facebook Account
We all know Instagram, Facebook, and WhatsApp are all part of the same company, now known as Meta. We also have already mentioned that all promotional activities of Facebook and Instagram happen from the same place (Meta Commerce Manager).
Therefore, you need to connect your Instagram business account to your official Facebook page for the Woo store. This is also because one Instagram product feed can be used to create shops and promote products on both platforms.
Go to Settings and Privacy again and tap on the Business Tools and Controls option.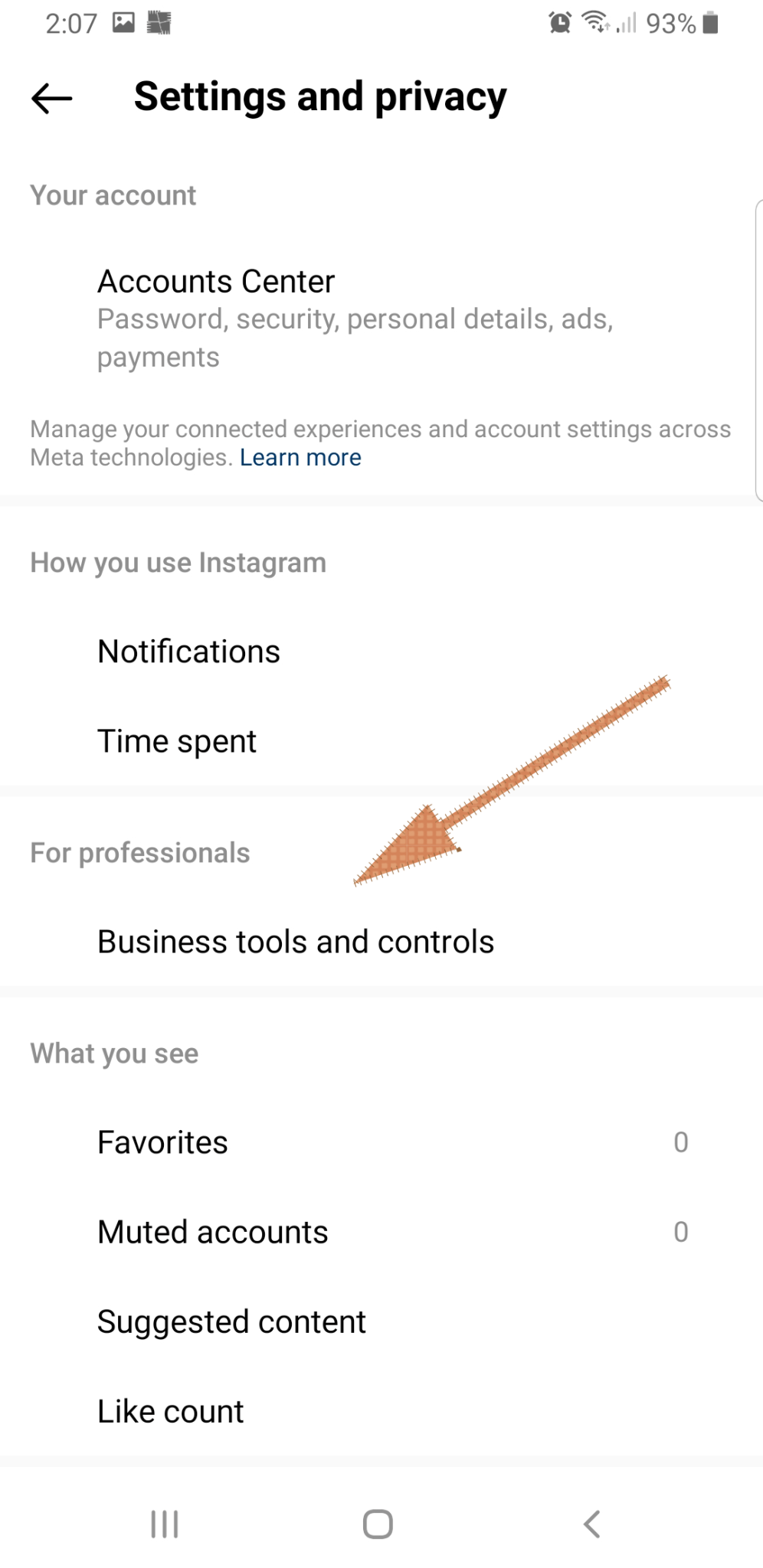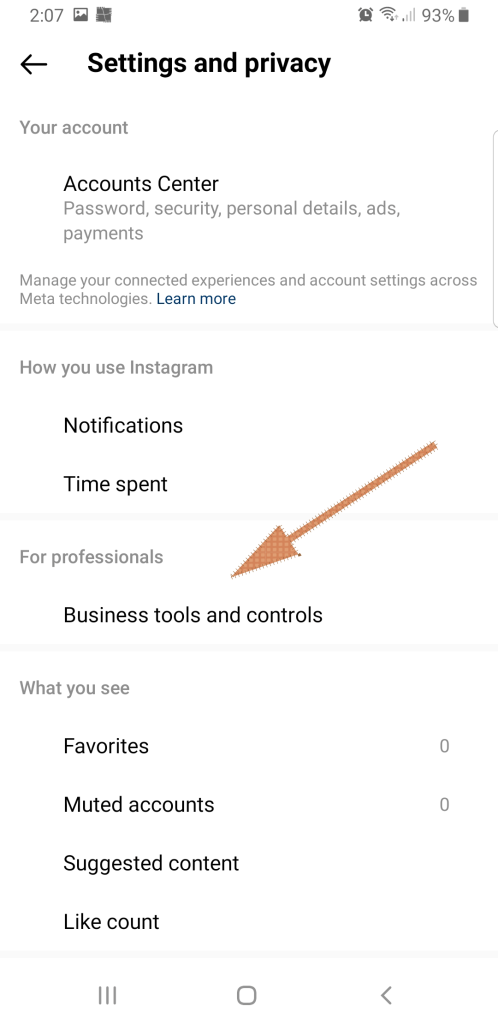 From there, go to Connect or Create and link your Woo site's official Facebook page.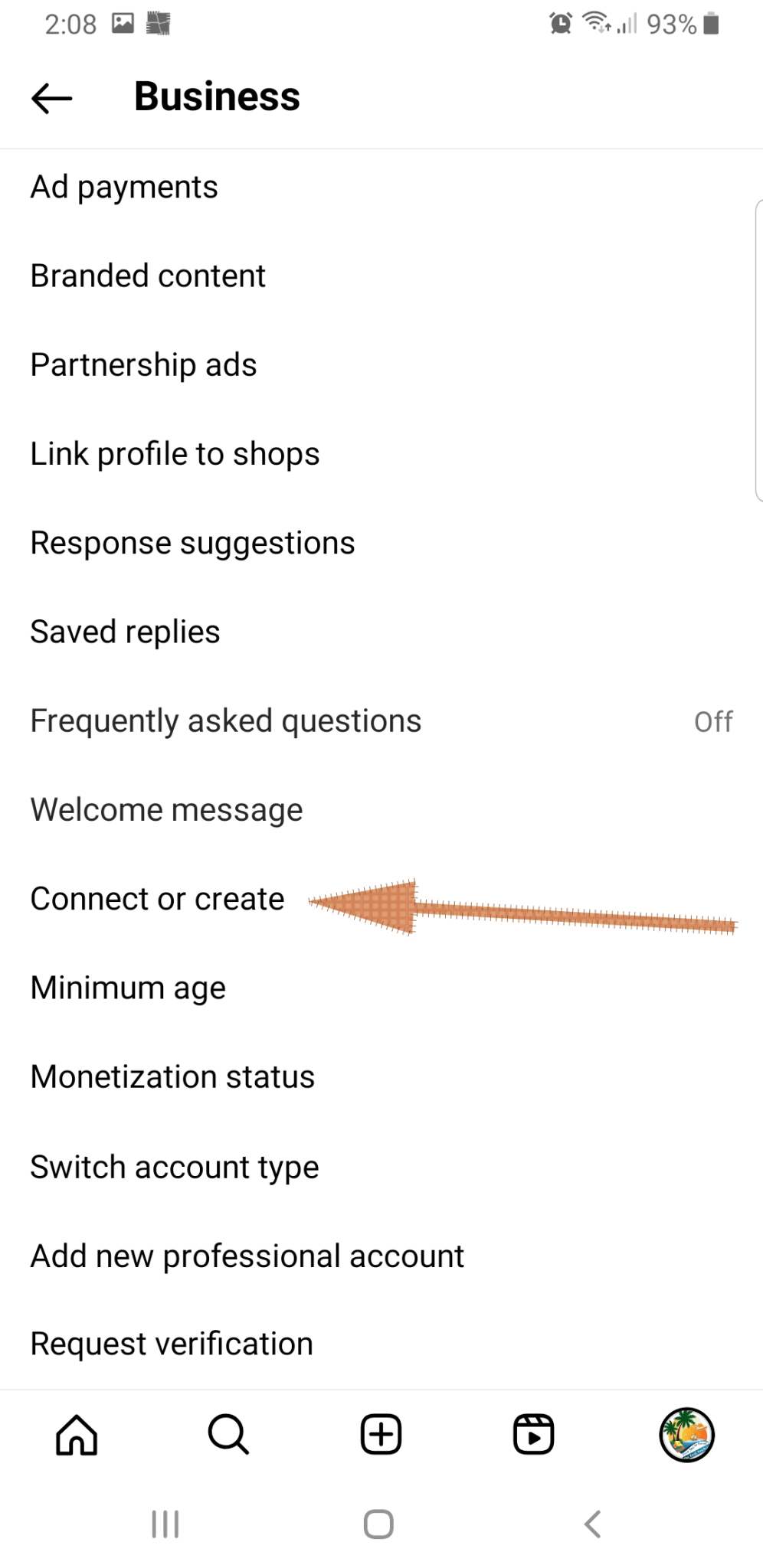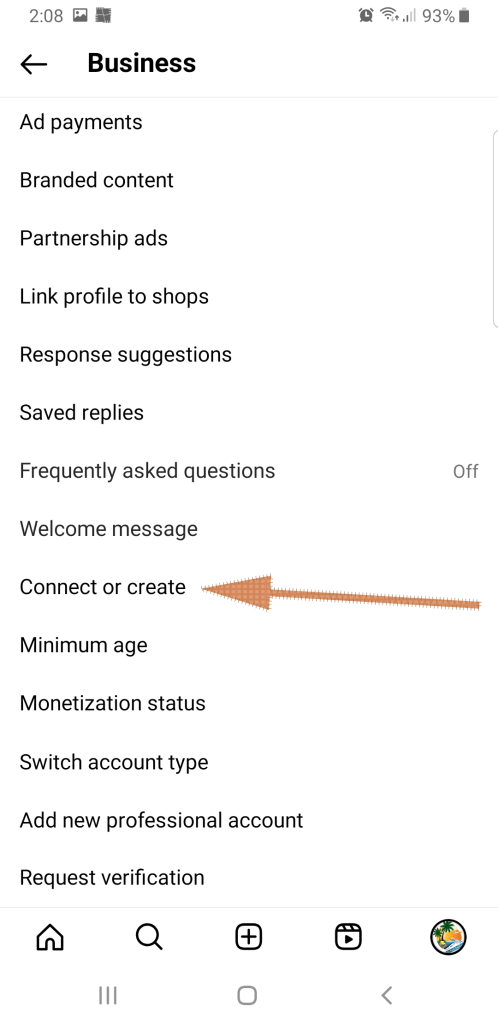 Uploading Instagram Product Feed to Commerce Manager
Log in to Meta Commerce Manager with your Facebook user ID and password. If you are new to the platform, you will see a similar window.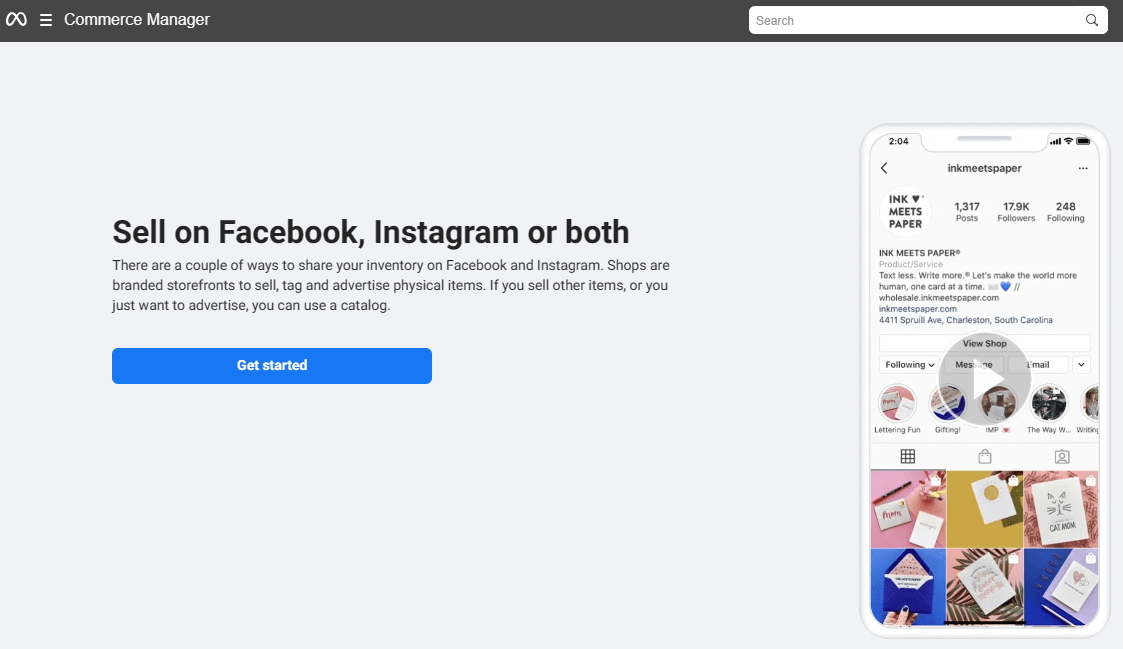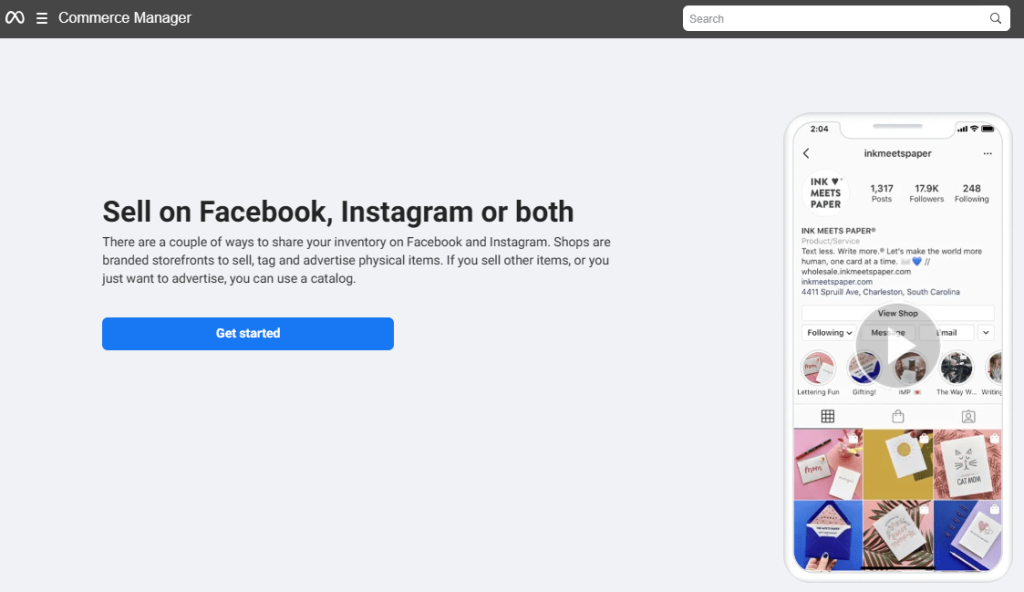 After you click on the Get Started button, you will get two options. You can directly proceed to create a shop or choose to create a catalog. We will pick the catalog option to be able to promote the products everywhere possible across these two platforms.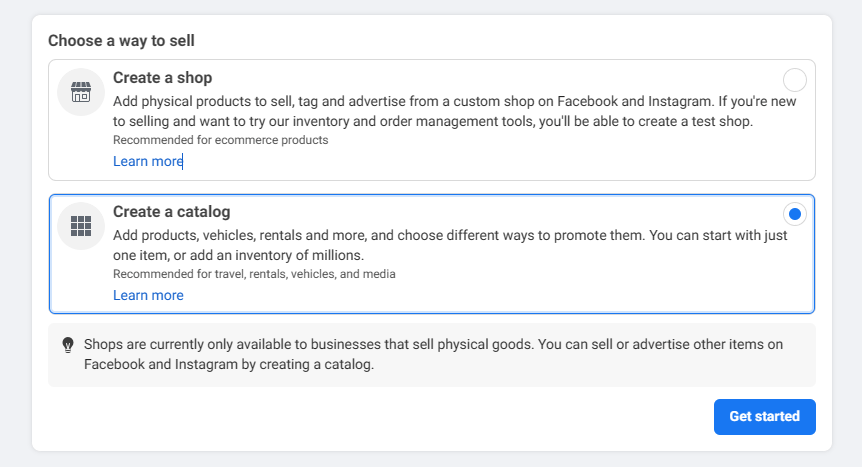 As an eCommerce store yourself, select the appropriate option.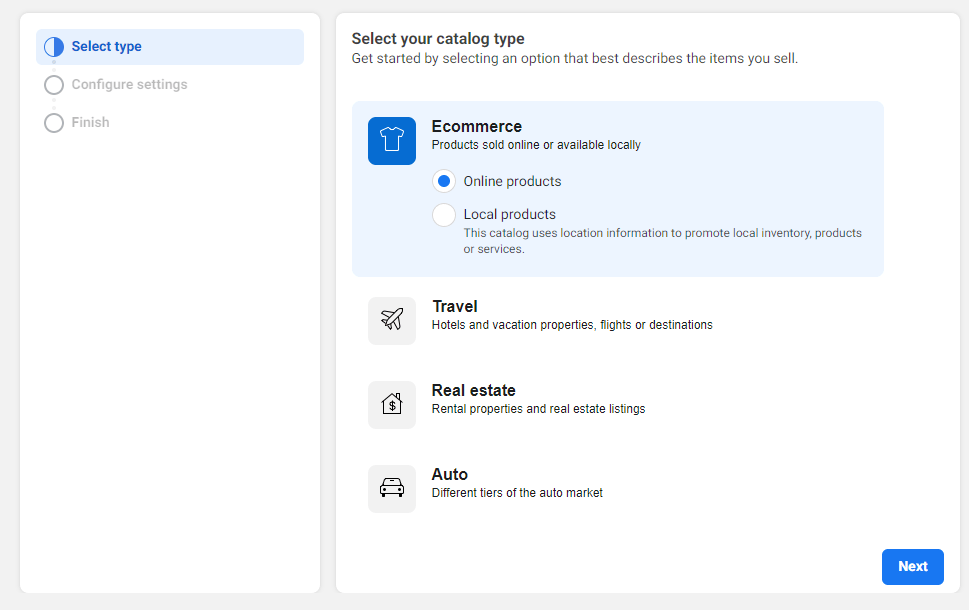 You are going to upload product information, so select the following option and create the catalog. This will create an empty catalog on Commerce Manager.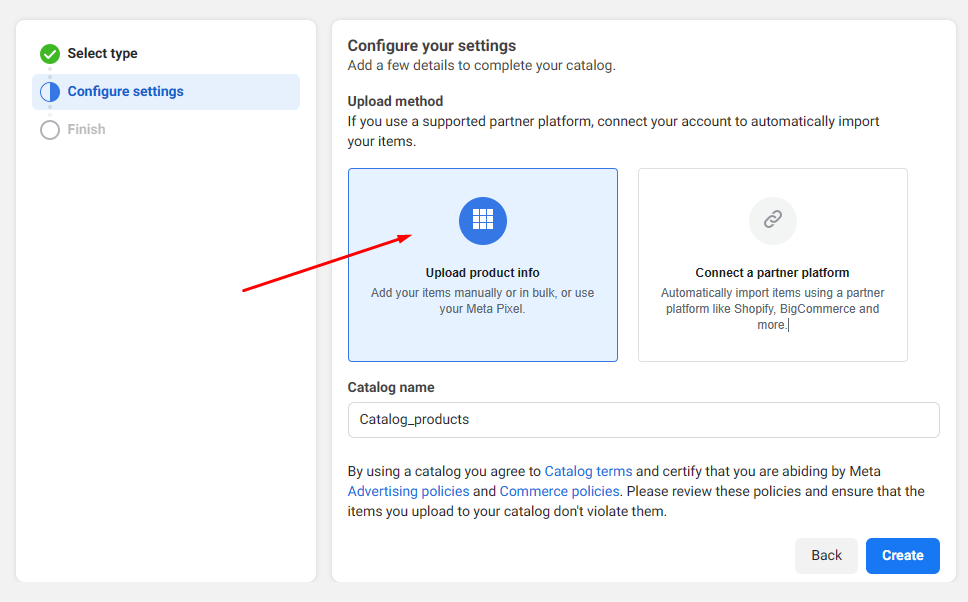 How to Feed Products to Instagram (Uploading Product Feed)
Now, you need to upload your Instagram product feed on the empty catalog. From the left panel, find the Catalog>>Data sources menu. After that, select the Data Feed option.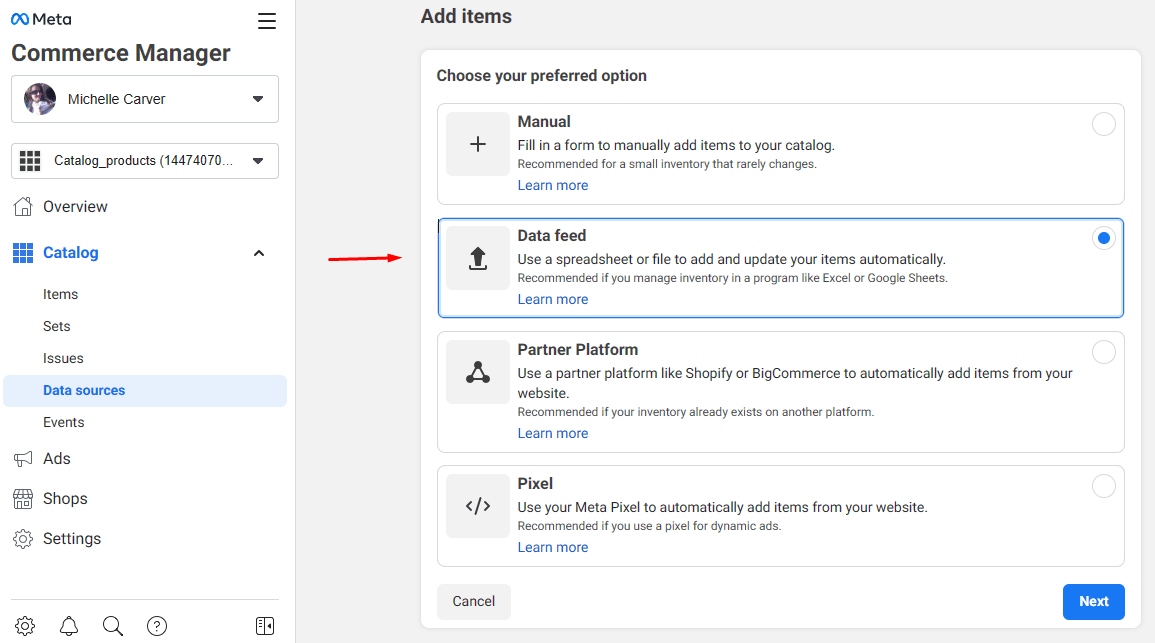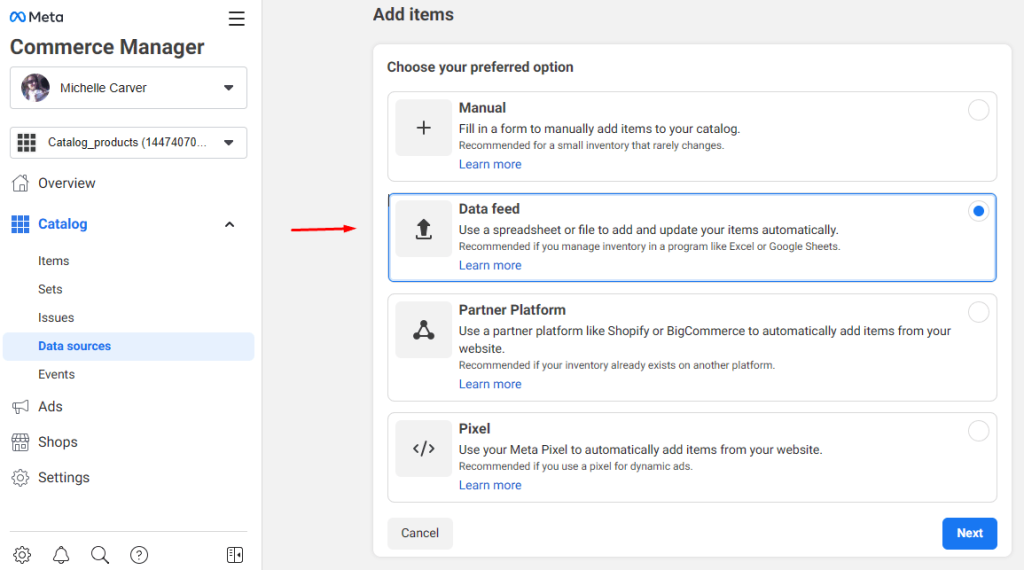 Click Next twice to proceed to this window.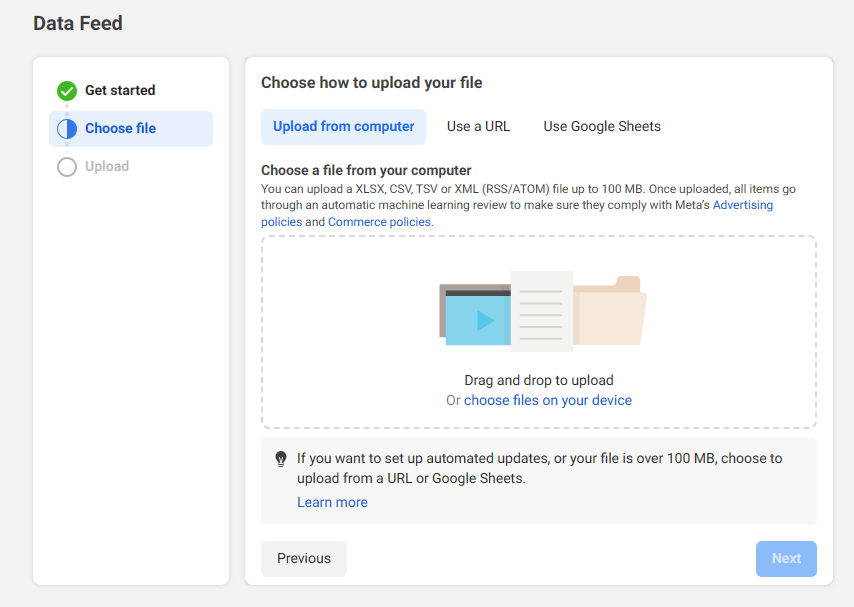 As you can see, the platform gives you several options to attach a feed. We will go with the URL connection.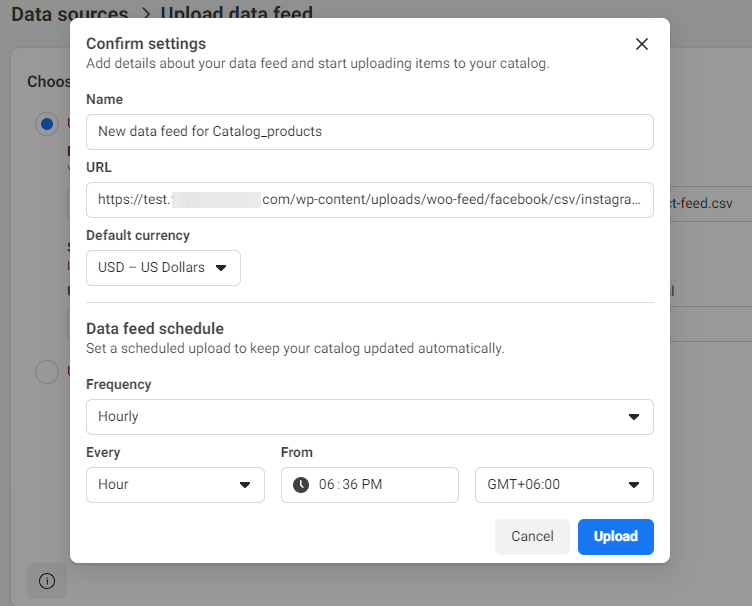 Paste your Instagram product feed URL you got from CTX Feed. Also, set the update frequency. This update frequency means after what time Commerce Manager will check your feed for updates.
Let us explain in detail. The automatic update interval you set on CTX Feed helps the plugin to fetch all changes and update the feed files automatically, and the update frequency set on Commerce Manager helps the platform collect those changes from the feed.
For example, you have set a 40-minute interval on the CTX Feed plugin. Now, you have made some changes to a couple of product prices. After 40 minutes, the plugin will collect the new prices and update the Instagram product feed.
Let's say you have set an hourly update frequency on the Commerce Manager Catalog. Therefore, the platform will fetch the feed every hour, along with all updates made by the plugin within this time.
As a result, through a URL feed connection, you can always display accurate information across your marketing channels.
Account Verification and Enabling Shopping Features on Instagram
Instagram needs to verify your details before they can allow you to promote your WooCommerce products on the platform. To apply for verification, follow these steps,
Go back to Settings and Privacy.
After that, go to the Business menu and tap on Instagram Shopping.
Now, you need to follow all the prompts to apply for the verification process.
It may take a few days or even weeks for Instagram to review your account. After they complete verification, you will be able to enable Instagram Shopping features.
To enable Instagram Shopping, follow the screenshot below.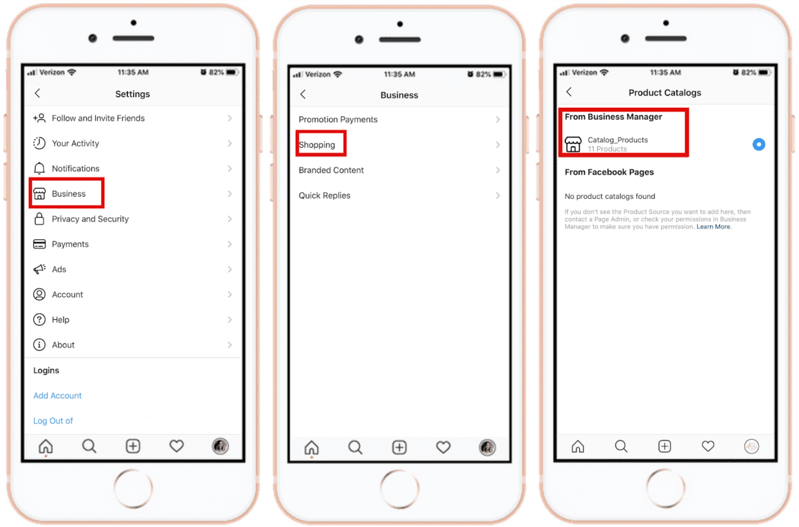 Again, after you select the catalog, Instagram will need you to follow some prompts to activate shopping features on Instagram. After that, you can create a shop or start tagging your products.
FAQ
How to Get Trending Product Feeds on Instagram?
To get trending product feeds on Instagram, you can use Instagram Shopping, relevant hashtags, Instagram ads, influencer collaborations, and the Explore feed.
How to Set Up A Product Feed on Instagram?
You can learn the necessary attributes for creating an Instagram product feed and create a feed file on tools like Google Sheets. However, the best way to generate a product feed is to use a feed management tool or plugin.
Wrap up
Instagram is an incredibly powerful marketing channel for any eCommerce store. You can reach millions, if not billions, of potential customers through this platform.
However, to effectively promote your goods on the platform, you will need a well-optimized product feed. Hope this article on Instagram product feed can help you start promoting your WooCommerce products on the platform efficiently.