Are you looking for the best WooCommerce hosting services? If you are, keep reading this article. Here, we will show you the top seven hosting providers you can use to run an online store.
Choosing a WooCommerce hosting could be a challenging task. Since many options are available, finding the suitable one can take time. You should consider checking multiple things before choosing a hosting provider for your online store.
Are you still confused about the available options you can select?
If you are overwhelmed with the choices you have, do not worry. This article will show you the top seven WooCommerce hosting services you can use to run the perfect online store.
First, let's see why choosing dedicated WooCommerce hosting services is ideal.
Why Choosing a WooCommerce Hosting Is Good?
To host a website there are multiple types of hosting options. The popular ones are:
Shared
Cloud
Managed WordPress
Dedicated server
And so on.
But if your main goal is to host a WooCommerce store, choosing a dedicated WooCommerce hosting would be the best option. Dedicated WooCommerce hosting services have enhanced security, performance, and painless migration processes.
While you run an online store, these are mandatory factors. Some premium-managed WooCommerce hosting providers will assign you a dedicated support agent. The support agent will take care of all the technical stuff, and you can focus on selling more stuff and making more profit.
This is why choosing a managed WooCommerce hosting is ideal for online stores. Next, let's see how to choose the best WooCommerce hosting provider for your business.
How to Choose the Best WooCommerce Hosting Provider?
Before choosing WooCommerce hosting services, consider these factors:
Uptime: A website with good uptime will increase conversions and rank higher in search engines. So, the hosting provider needs to give you better uptime.
Security: Security should be one of the main concerns you need to have. Since you deal with customers and credit/debit card transactions, the hosting provider must give you bulletproof security features.
Performance: A 1-second delay in the loading speed can affect your overall conversion rate. So, ensure the selected WooCommerce hosting provider is optimized for speed and performance.
Resources: Some web hosting providers will limit individual plans' available disk storage and bandwidth. So, check what you are getting for the price you pay.
Upgrade/downgrade options: As your business grows, you need to scale. A good WooCommerce hosting provider needs to allow upgrading/downgrading options.
Pricing: Pricing should be one of the main concerns when choosing WooCommerce hosting providers. If you are starting a WooCommerce store for the first time, you do not need to spend hundreds of dollars a month for hosting. An affordable option will be helpful in the beginning.
Support: An excellent hosting support team is mandatory. Most popular WooCommerce hosting providers will provide live chat, phone, or email support.
Now you know how to choose the best hosting for your online store. Next, let's see the top hosting providers you should try.
Best 7 WooCommerce Hosting Services Compared
The seven web hosting providers we are going to list are:
WP Engine
Kinsta
Bluehost
SiteGround
Cloudways
DreamHost
Liquid Web
Each hosting partner comes with unique features. Below, we will explain what makes each hosting unique. Based on your requirements, you can choose an option.
Without any further ado, let's get into the list.
1. WP Engine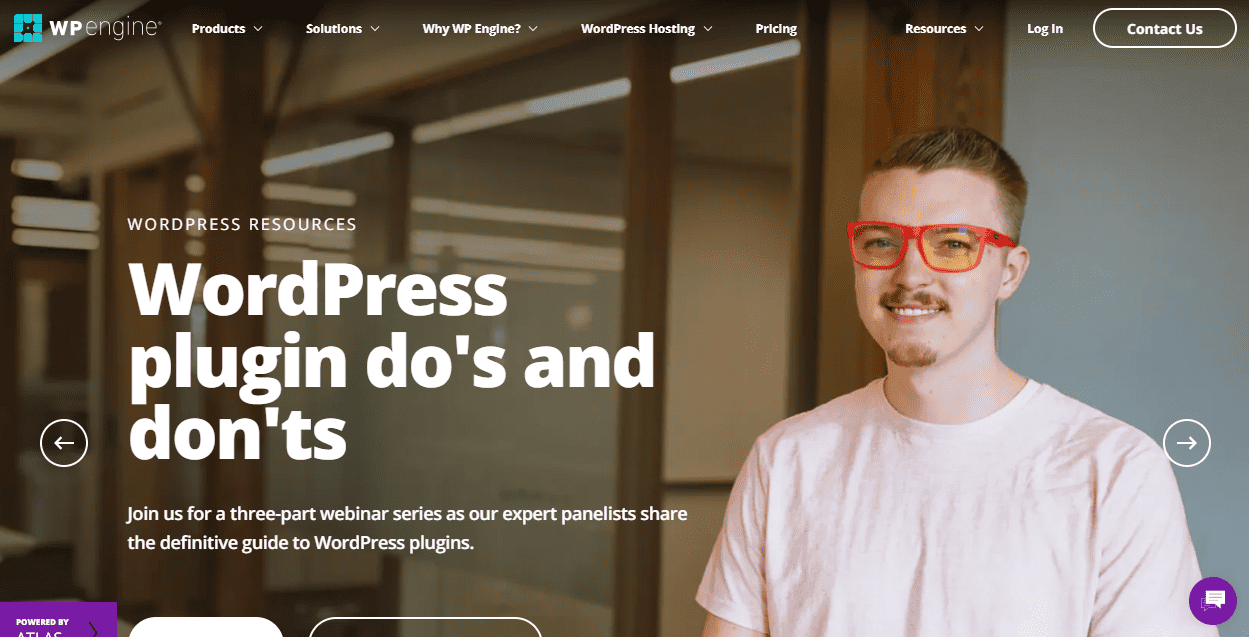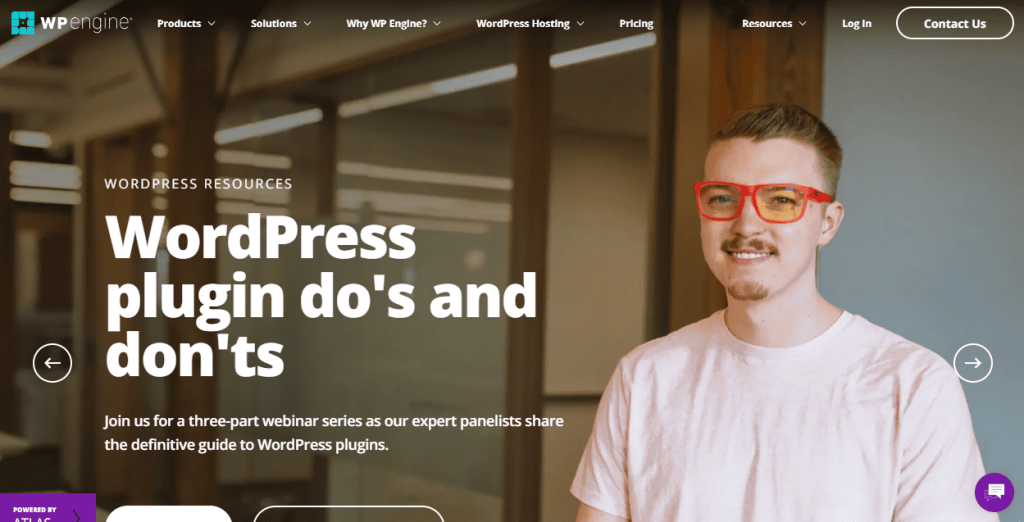 If you choose the most powerful hosting service for your WooCommerce store, check out WP Engine. WP engine is one of the best hosting providers for a high-traffic website. Their WooCommerce hosting solution has cutting-edge features that will make your online store better and more powerful.
One of the popular features of WP Engine is instant store search. They have combined AI (Artificial intelligence) and developed an improved version of elastic search functionality. Using this, you can improve the visibility of related products users seek and make more sales. The platform also developed a custom caching solution to speed up your online store without hassle.
You can list unlimited products and have unlimited staff members in the store. WP Engine also has an automatic update feature, so the WordPress core, themes, and plugins will automatically be updated to the latest version.
Since WP Engine generates daily backups of your WooCommerce store and stores the backup files off-site, all the data is secure. The backup generation process is automatic, and WP Engine will generate a complete website backup daily. On the other hand, you can also generate on-demand backups based on your request.
Features
Instant store search
Unlimited products and staff
Dedicated caching
Automatic updates
Automatic backups
Pricing
WP Engine is a premium hosting provider. The WooCommerce hosting service will cost you $24 monthly for a single domain hosting.
2. Kinsta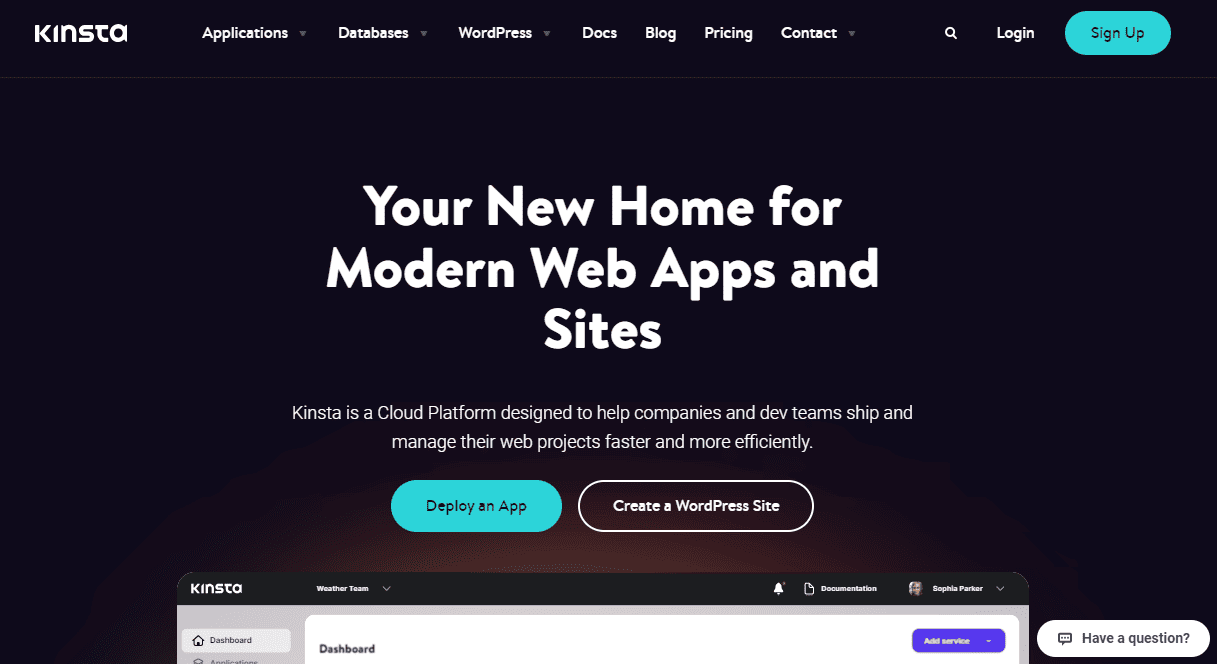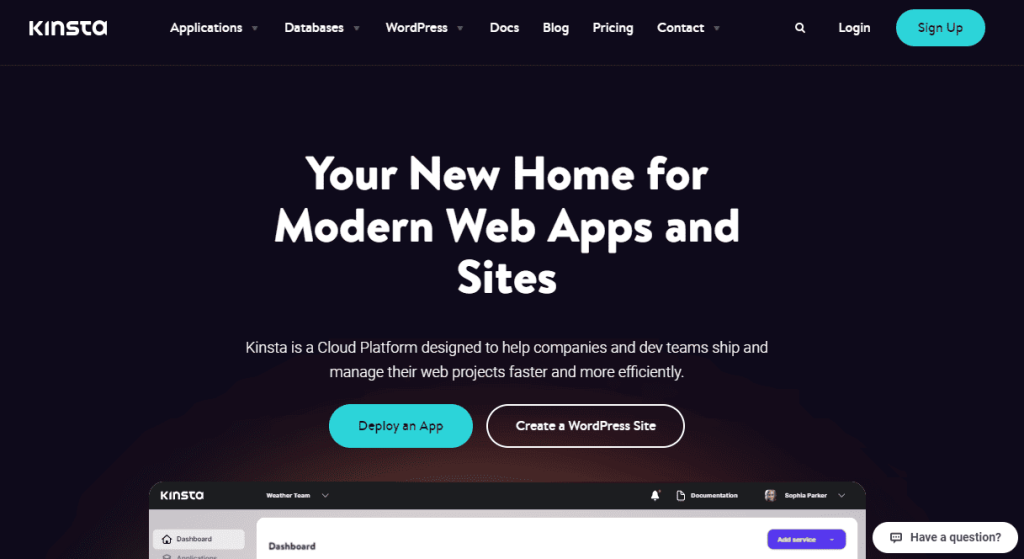 Another managed WordPress hosting you can use to host a WooCommerce store is Kinsta. Kinsta uses GCP (Google Cloud Platform) to host the websites, so the availability of websites will be higher. Another feature of Kinsta you are going to love is the user interface. You will get an idea of how the website performs from the dashboard.
The platform will show you 25+ reports, which you can use to make better decisions for the business. The easy upgrade/downgrade feature will come in handy in multiple situations. You can upgrade the hosting plan through the dashboard as you need more power and resources. To ensure your business is up, the uptime monitor tool powered by Kinsta would be helpful.
Every two minutes, the tool will check your website's uptime. If there are any issues, you will get a notification regarding the same. This way, you can ensure the online store is always up and running. If you have already hosted a WooCommerce store with any other hosting providers, Kinsta's support team can help you with the migration process.
This way, you do not need to deal with any technical stuff.
Features
Optimized for performance
Free migrations
Easy upgrade/downgrade options
User-friendly dashboard
Regular uptime checks
Pricing
Kinsta is a premium managed WordPress hosting company. The base plan starts at $35 monthly, where you can host one WooCommerce website.
3. Bluehost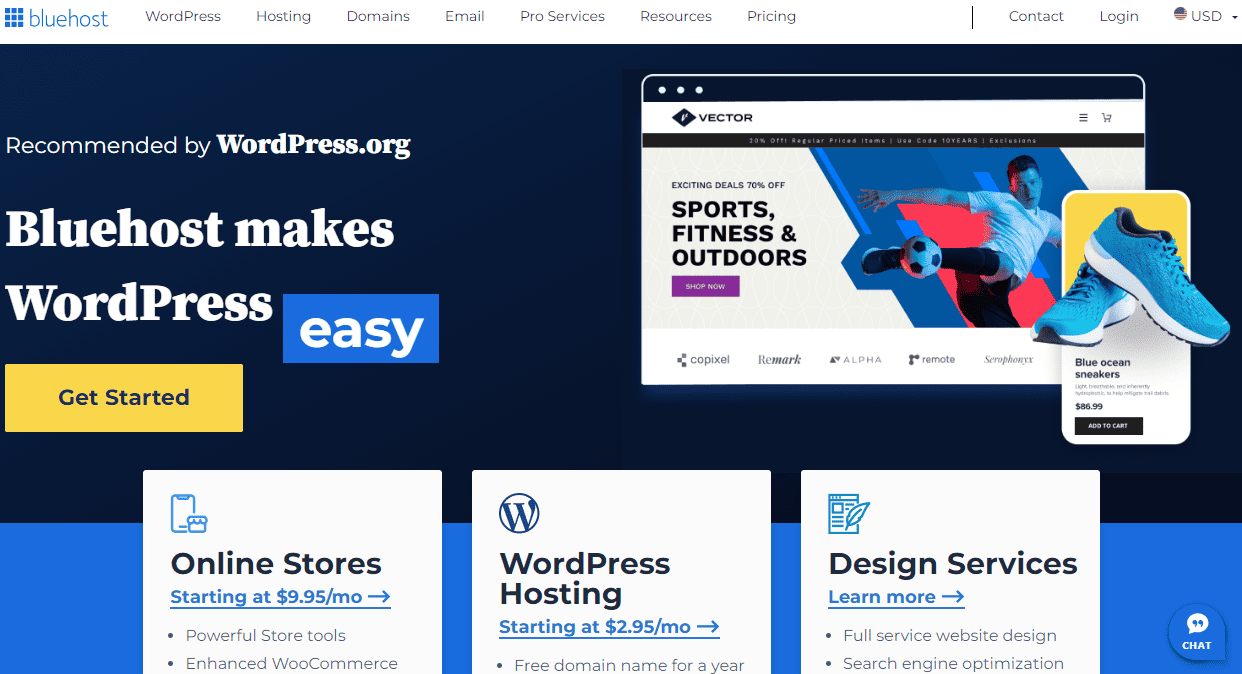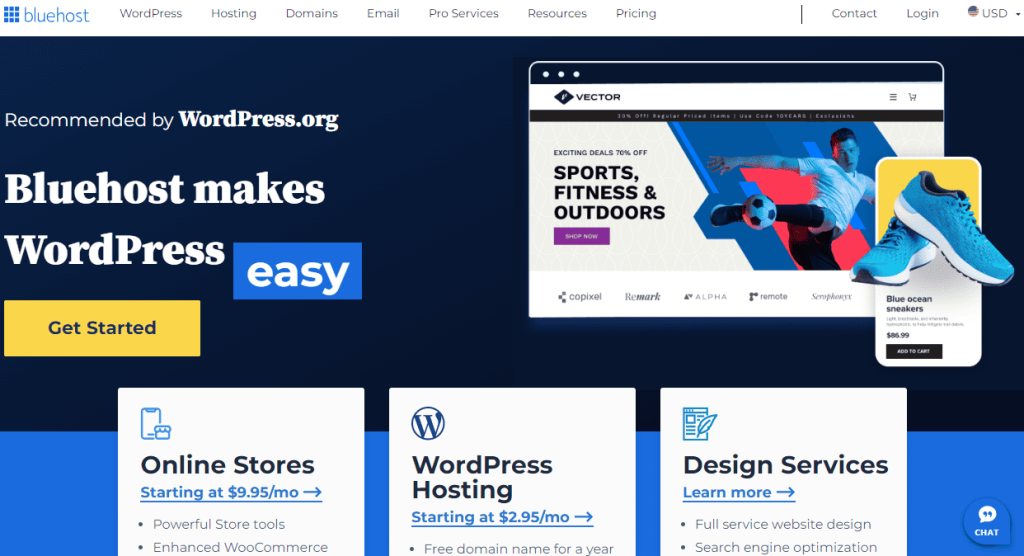 When you start your first WooCommerce store and need an affordable hosting solution, check out Bluehost. Bluehost is one of the web hosting companies recommended by the WordPress community. They use SSD storage for their servers. This way, you can load your website's files faster and create a speed-optimized website.
Bluehost also allows you to get a free domain name while you purchase their hosting plan. So, if you are on a budget and need a domain name for free, Bluehost would be a good option. Apart from a free domain name, you can also get a free SSL certificate from the Let'sEncrypt community.
All the themes, plugins, and WordPress core will be updated to the latest version when publicly available. Regarding backups, Bluehost uses Jetpack for backing up your WooCommerce store. As you know, Jetpack is a reliable backup plugin, and you can create a complete website backup within a couple of minutes.
Features
Affordable hosting plans
Free SSL certificate
Free domain registration
Auto updates
Jetpack backups
Pricing
Bluehost is a premium WordPress hosting company. The WooCommerce hosting plans start at $9.95 a month.
4. SiteGround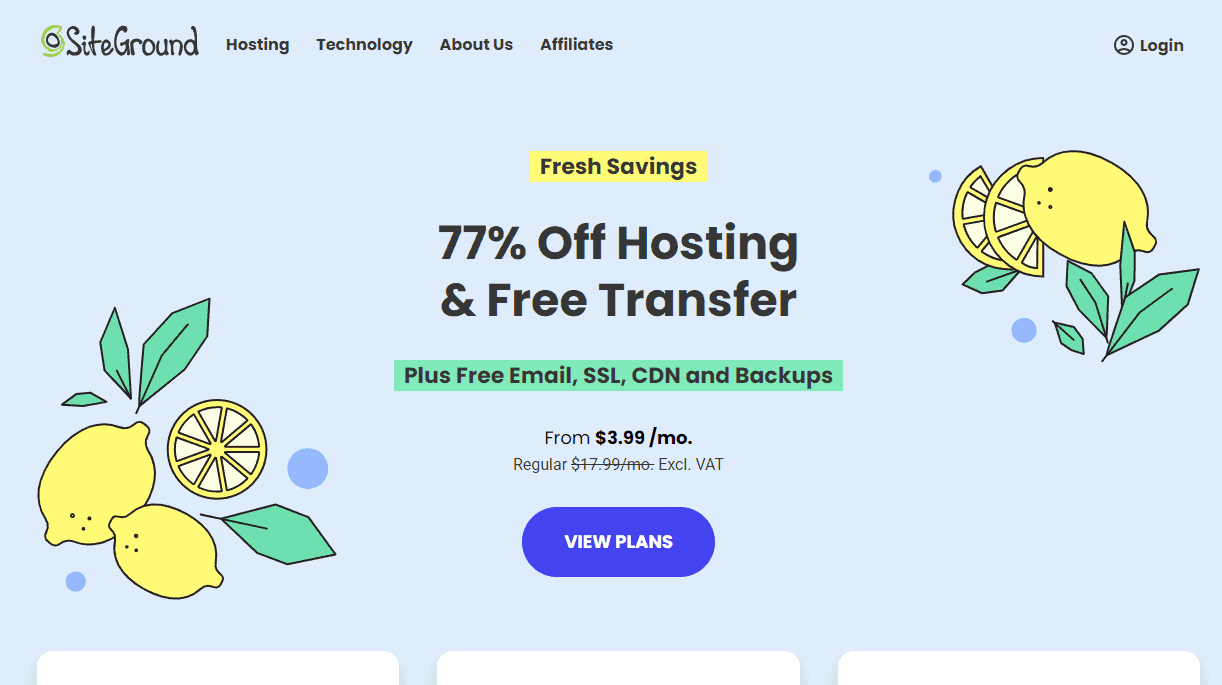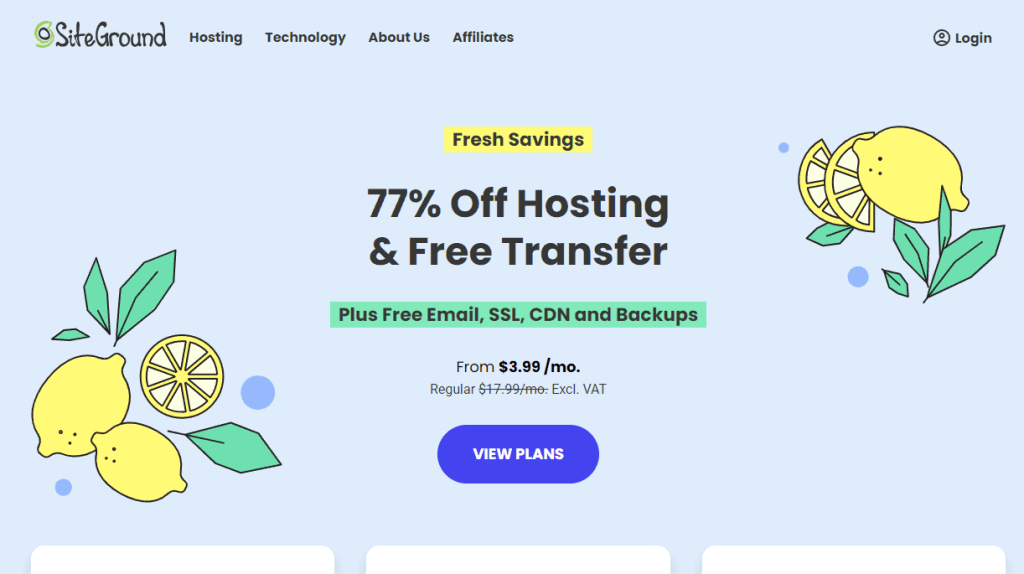 SiteGround is another hosting company that is recommended by the WordPress community. The main advantage of SiteGround is the eCommerce optimization options it offers. They have created web hosting plans tailored to WooCommerce store owners. If you choose that, WooCommerce will be pre-installed, and you can save time installing it manually.
SiteGround will also give you access to their free CDN system. A CDN provider will help you improve and secure the website's speed. So, getting a free CDN from SiteGround is a great thing. Another thing that SiteGround gives you is a custom caching system. With this system, you can enable full-page caching, significantly boosting the website's speed.
When it comes to website security, SiteGround makes no compromises. They have a custom WAF (Web Application Firewall) protecting the servers from all malicious traffic and attacks. On top of that, they are also using an AI anti-bot to block all the malicious traffic to the online store.
Features
Custom caching system
Free SSL
Free backups
CDN enabled
Unlimited databases
Pricing
SiteGround is a premium hosting company. Their cheapest plan starts at $3.99 a month.
5. Cloudways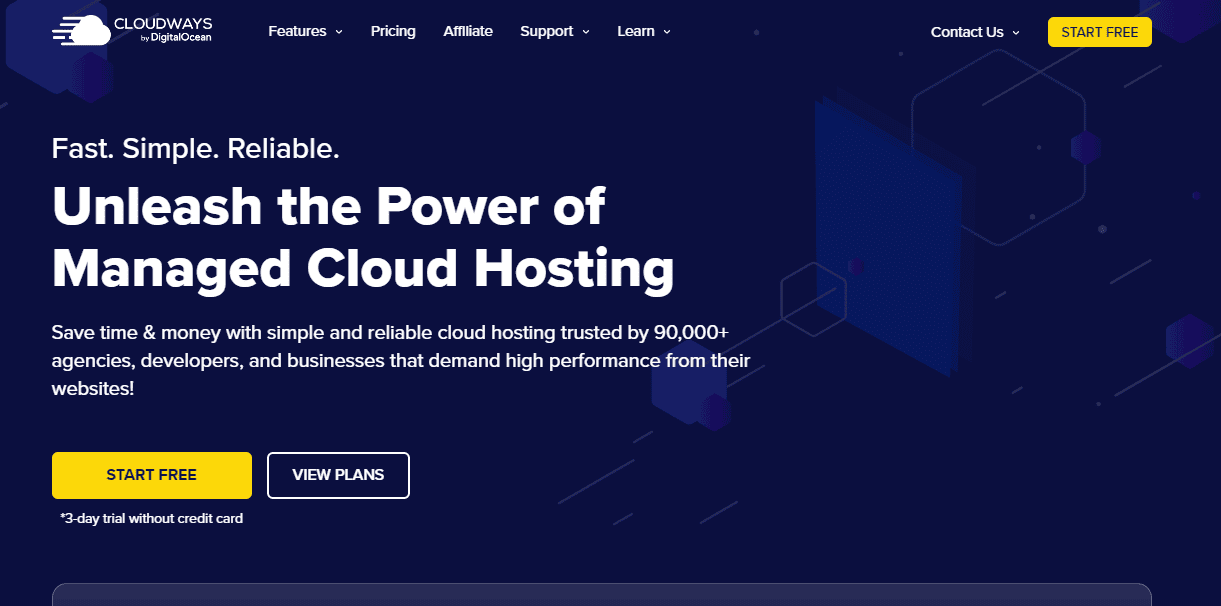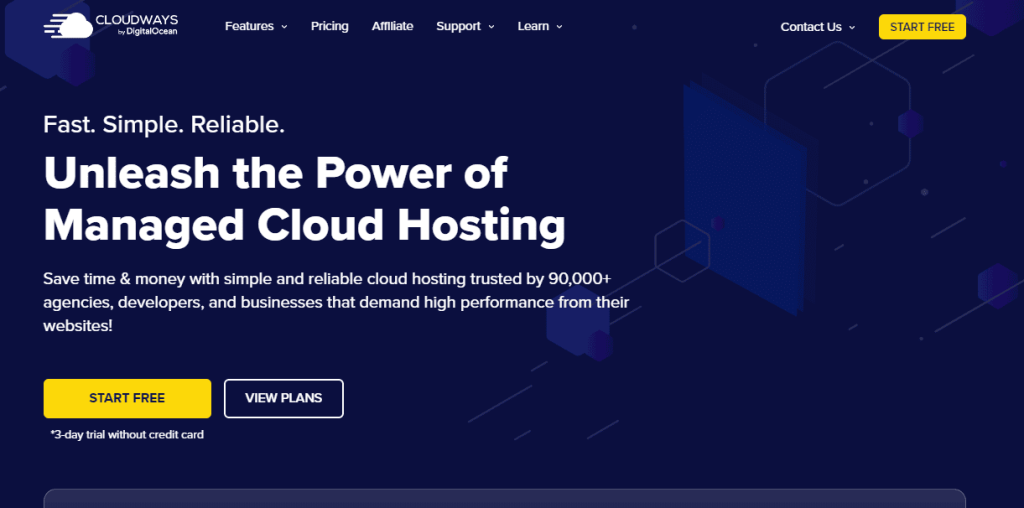 When you prefer a WooCommerce hosting that is easily scalable, check out Cloudways. Cloudways is one of the unique hosting providers that can help your websites run smoothly without any hiccups. Based on your requirements, you can add extra RAM to your server, block storage, etc.
The platform has three cloud hosting partners – Digital Ocean, AWS, and Google Cloud. According to your requirements, you can choose a cloud partner. The platform will also give you access to free SSL certificates and backups. Daily, the server will generate a complete backup of your website, which you can access later in an emergency.
Once you have created a server on Cloudways, you can add unlimited WooCommerce installations. You do not need to pay extra to add websites to the network. The support team of Cloudways is also great. You can get help with every technical/non-technical stuff through live chat. Overall, it is one of the best WooCommerce hosting services.
Features
Multiple cloud partners
Easy migrations
Easily scalable
Unlimited applications
Dedicated firewalls
Pricing
Cloudways is a premium cloud hosting provider. Their cheapest plan starts at $11 a month.
6. DreamHost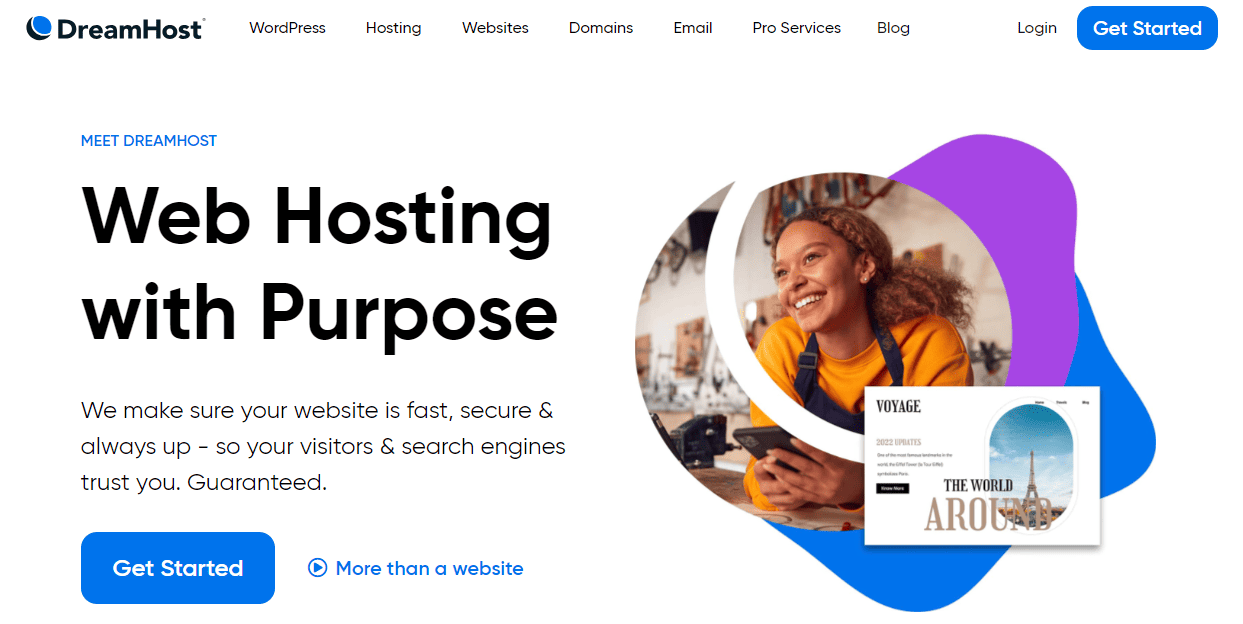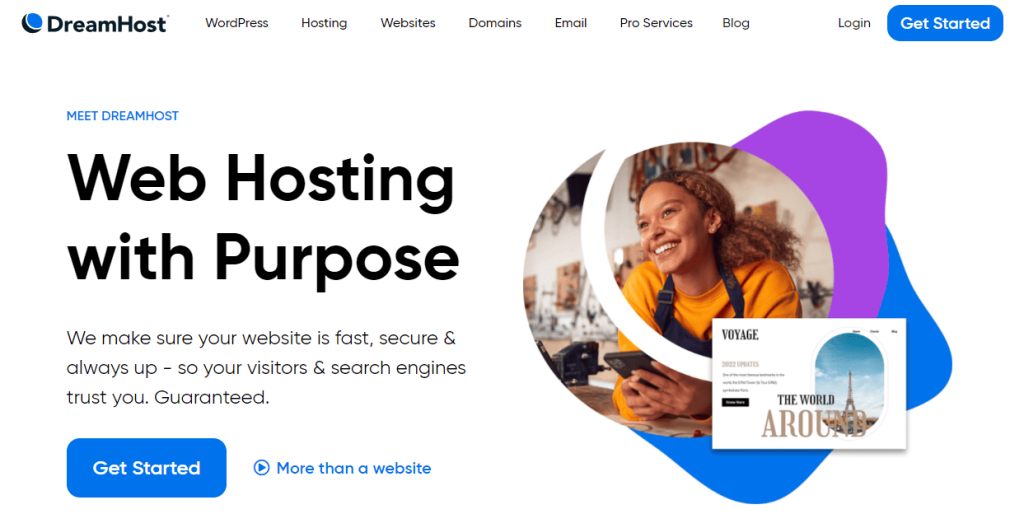 When you need a reliable WooCommerce hosting partner, use DreamHost. DreamHost is the last and final web hosting company in this list that is recommended by the WordPress community. With every DreamHost WooCommerce hosting plan, you will get unmetered bandwidth. This means you can keep your website running without worrying about data transfer issues.
All the plans come with the latest version of WordPress and Jetpack plugin pre-installed. You will also get free SSL certificates with every plan. On-demand backups are one of the main features of DreamHost. You can do it from the account dashboard if you need website backups.
On top of everything we have mentioned above, DreamHost will also allow its users to create unlimited business emails, which will be helpful in multiple situations. When you use the business email feature of DreamHost, you do not need to spend money on GSuite or any other hosted email providers.
Features
Unlimited bandwidth
Free SSL certificate
On-demand backups
Unlimited business emails
Jetpack pre-installed
Pricing
DreamHost is a premium hosting provider. You can get started with them by spending $19.95 a month.
7. Liquid Web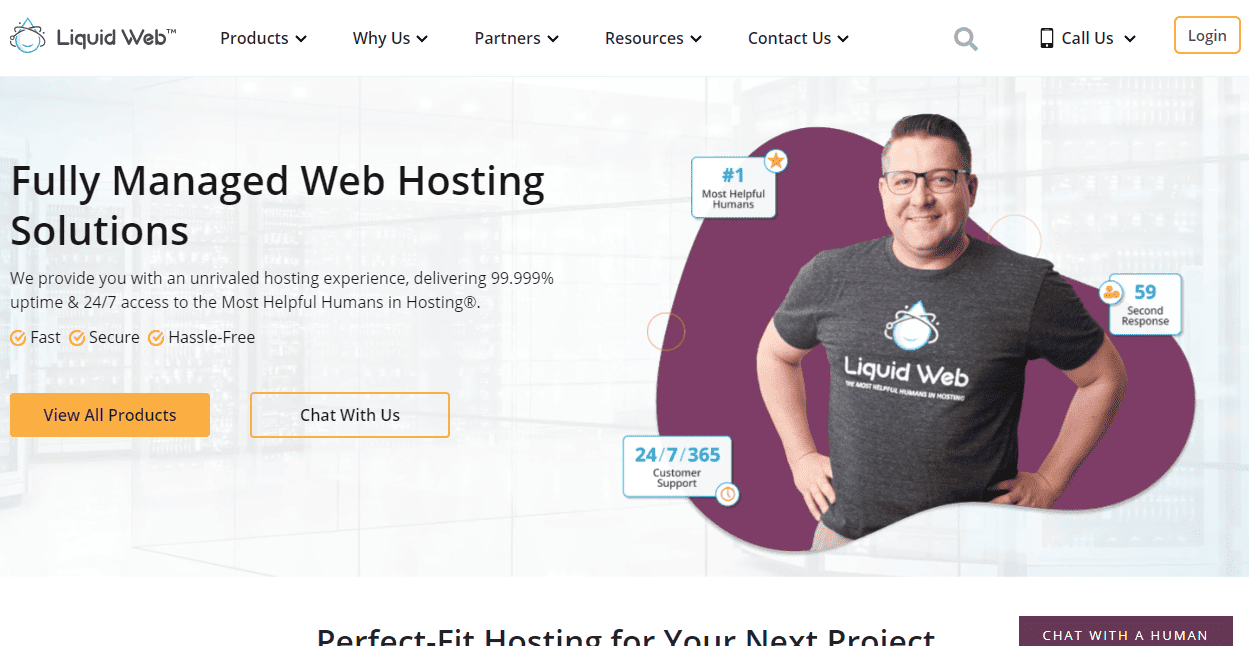 Liquid Web is for people who need to handle heavy WooCommerce stores with thousands of real-time visitors. No matter how many website visitors you have, Liquid Web will handle all the traffic without any issues. The hosting provider also comes with a custom image compression method.
Using this method, you can optimize your image's file size without compromising the quality. Liquid Web also has a Cloudflare integration. Hence, your website will be loading quicker for customers around the globe. Another essential feature of Liquid Web is the one-click staging environment.
Before testing custom plugins or codes in a live WooCommerce store, you can create a staging environment and try the codes there. If everything is good, you can make changes to the live website. If you already have an existing WooCommerce store, you can contact the support team to migrate the website.
Finally, Liquid Web partnered with IconicWP, and you will get access to their plugins without spending a single penny extra.
Features
Image optimization
Staging environment
Excellent support team
Free migrations
Access to premium plugins
Pricing
Liquid Web is a premium web hosting company. Their WooCommerce hosting plan costs $21 a month.
Conclusion
Choosing the right hosting provider will help you keep the website running properly. If you search for web hosting, you will see several local and international brands. When you run a WooCommerce store, do not take risks and stick with the right ones.
In this article, we have listed seven of the best WooCommerce hosting services you can choose. In a nutshell, here is a quick comparison:
| Hosting Name | Ease of Use | Support | Features | Pricing |
| --- | --- | --- | --- | --- |
| WP Engine | 8/10 | 9.5/10 | 8/10 | $24/month |
| Kinsta | 8/10 | 9.5/10 | 9/10 | $35/month |
| Bluehost | 7/10 | 7.5/10 | 7/10 | $9.95/month |
| SiteGround | 7.5/10 | 7.5/10 | 8/10 | $3.99/month |
| Cloudways | 8/10 | 8/10 | 9/10 | $11/month |
| DreamHost | 9/10 | 7/10 | 7/10 | $19.95/month |
| Liquid Web | 7/10 | 8.5/10 | 8/10 | $21/month |
Which WooCommerce hosting services are you planning to check?
Let us know in the comments.
If you need more similar articles, feel free to check out our blog archive.