Are you looking for the HappyFiles review? If you are, we have got you covered. This article will show you everything you need about the HappyFiles WordPress plugin.
Having a media library plugin is handy. If you upload images, videos, or ZIP files to your WordPress/WooCommerce website, a media organizer plugin can help you arrange the files perfectly.
If you are looking for a media library plugin for WordPress, you will stumble upon multiple options. HappyFiles will be one of the main tools you will see when you search for a WordPress media library plugin.
Is it a good tool?
What features does it offer?
How to use it to organize the media library?
Are there any alternatives for HappyFiles?
These main questions will pop into your head while choosing a tool you never used before. But don't worry. If you haven't used HappyFiles yet but would love to know more about it, keep reading this article.
This post will show you the complete HappyFules review, explaining everything you need to know about the plugin.
First, let's see why a media library plugin is a good idea.
Why Using a Media Library Plugin Is Good
It won't look well-organized when you directly upload many media files (like images, zip files, or videos) to your media library.
By default, WordPress doesn't offer a media organization option. A media library plugin is mandatory to sort/arrange your media files.
With a media library plugin, you can arrange them into different folders, sort them based on multiple criteria, etc. Hence, a media library plugin is highly recommended if you run a multi-author blog or handle too many files.
Now you know why using a media library plugin is good. The next section will show you what to consider while choosing a media library plugin for your WordPress website.
What to Look for In a Media Library Plugin
While choosing a media library plugin for your website, consider these factors:
Features available
How frequently does the plugin gets updated
Ease of use
Quality of the code
Support offered by the development team
Does HappyFiles come with these qualities?
Let's find out.
HappyFiles Review: Everything You Need to Know
In this HappyFiles review, we will check out these aspects:
Features
Support offered by the team
Pros of the plugin
Cons of it
Pricing
And so on.
So if you are confused about choosing the plugin, keep reading this article. Here, we will explain every feature HappyFiles offers and how they will benefit you.
We will also show you four of the best alternatives instead of HappyFiles.
Without any further ado, let's see what makes HappyFiles unique.
Features
In a nutshell, the notable features of HappyFiles are:
Unlimited folders
Elegant dashboard
Drag and drop experience
Unlimited licenses
SVG Upload
Page builder compatibility
RTL Support
Supports multiple post types
Permission options
Multisite compatible
Let's take a closer look at each feature.
Unlimited Folders
When you manage multiple blog posts or projects, creating individual folders for those will be handy. With HappyFiles, you can create as many folders as you need.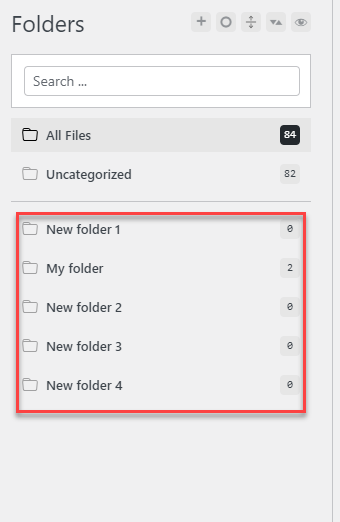 It is a good feature offered by HappyFiles.
Elegant Dashboard
The dashboard comes with a professional design.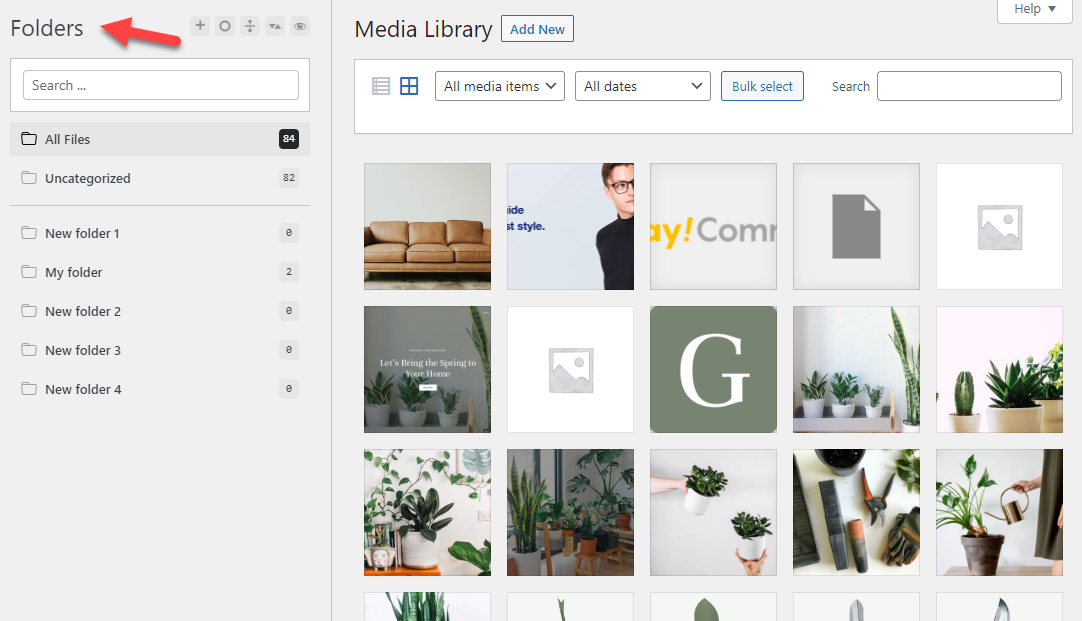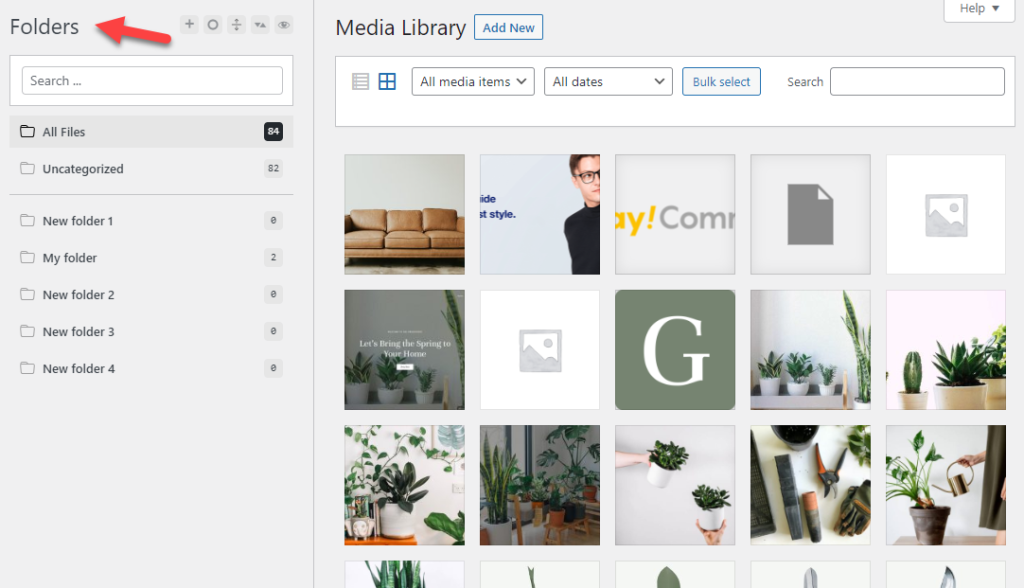 The navigation options are great; everyone could easily start rearranging their media files with the plugin.
Drag and Drop Experience
Since HappyFiles provides an easy-to-use, drag-and-drop experience, media organizations might become a cakewalk. You can select the files you need to move to a folder, drag them, and drop them inside the specific folder.
This way, you can save a lot of time.
Unlimited Licenses
You do not need to purchase individual licenses for your websites. Once you have a subscription, you can use the same license on unlimited websites.
This will also help you if you represent an agency that will develop WordPress websites for clients.
SVG Upload
By default, WordPress will not allow SVG uploads. But with HappyFiles, you can upload those. It will become handy if you run a blog showcasing logos of other popular businesses or brands.
Page Builder Compatibility
You can create custom page designs with a powerful WordPress page builder plugin. HappyFiles is 100% compatible with most page builder plugins like Elementor, Divi Builder, etc.
RTL Support
HappyFiles will work with every RTL language, such as Arabic. There won't be any compatibility issues.
Supports Multiple Post Types
Apart from the media library, HappyFiles also supports multiple post types.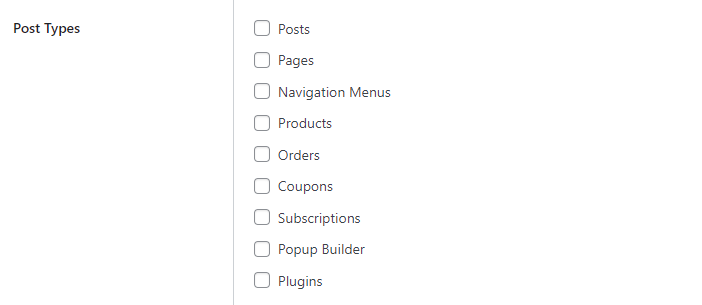 You can enable the post types that need organization based on your requirement.
Permission Options
You can limit who can access the plugin. If you check the permissions section, you will see the options.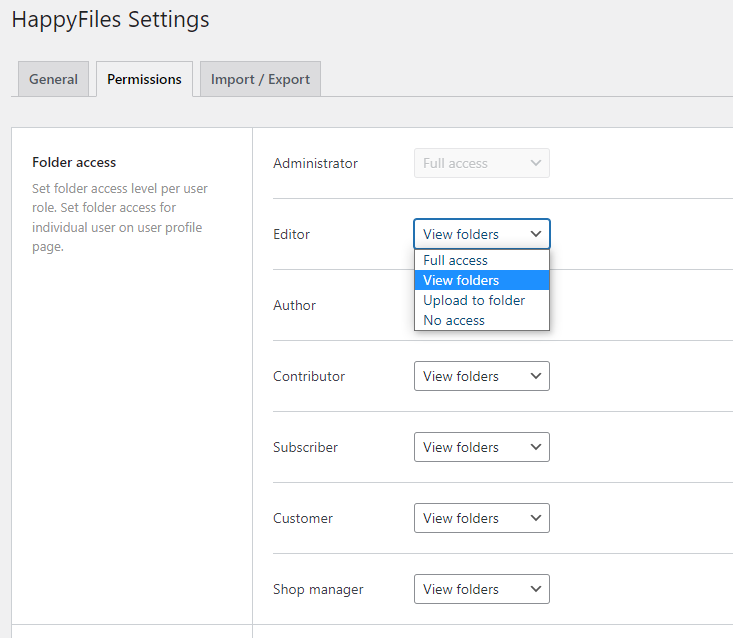 The main access modes they have are:
Full access
View folders
Upload to folder
No access
Based on the user role, you can configure the permission settings.
Multisite Compatible
If you are managing multiple websites and need to use HappyFiles on every site, there are no problems. The plugin is 100% compatible and offers multisite support. This way, you can manage the plugin better.
Support and Updates
Once you have purchased the plugin, you can get lifetime updates and support. This is one of the best things that HappyFiles provides. You should verify your license key to get auto updates and priority support.
Since they have an unlimited website usage policy, you can use it on as many websites as you need.
Advantages of HappyFiles
Hassle-free configuration
Easy-to-use plugin
Optimized code so there won't be any performance drop
Create unlimited folders so you can organize every media based on your preferences
Organize plugins, media, categories, and so on, which makes the plugin more unique
Disadvantages of HappyFiles
A free version is not available
Pricing
HappyFiles is a premium WordPress plugin. The plugin costs
Lifetime membership – $59 (one-time payment) – Unlimited Licenses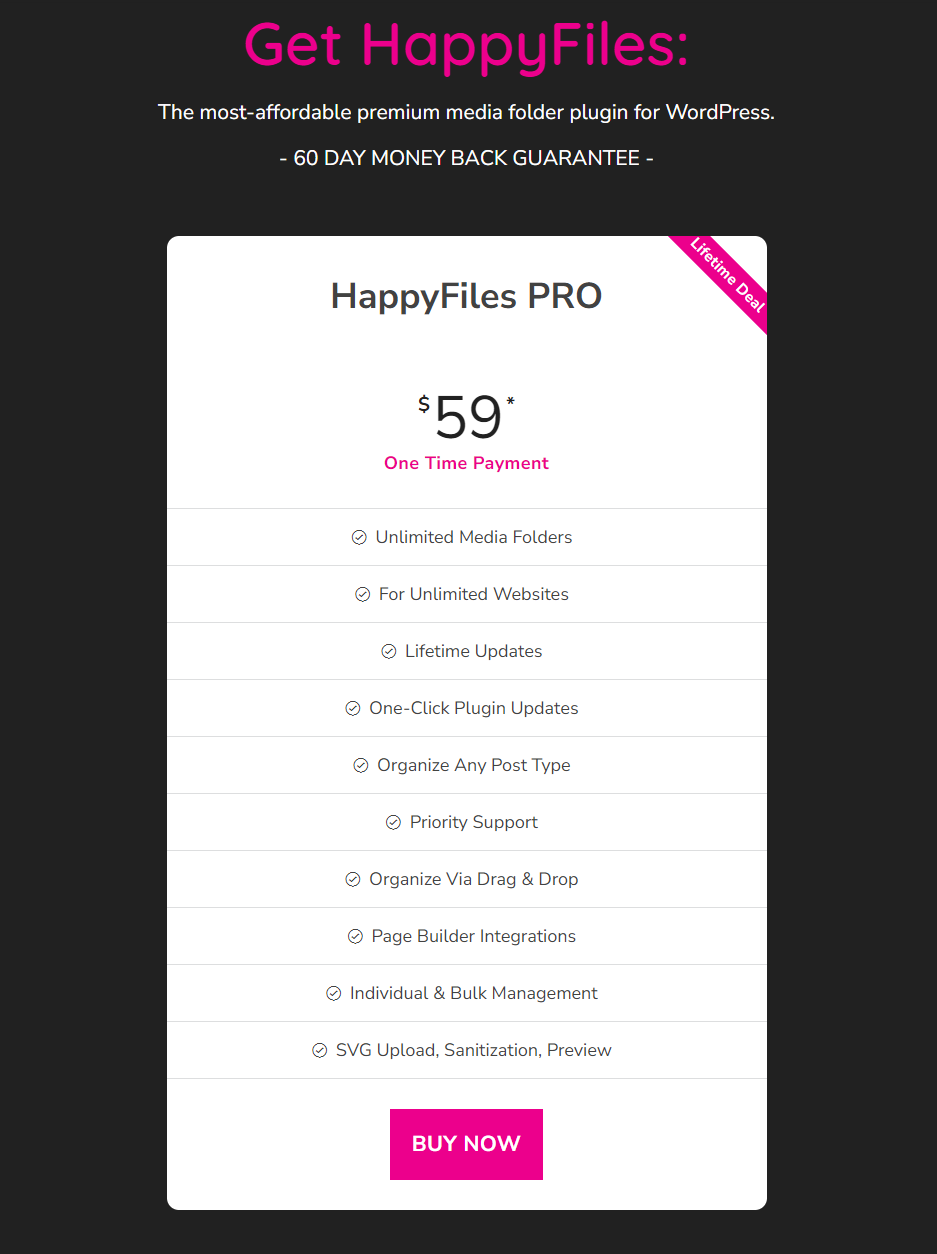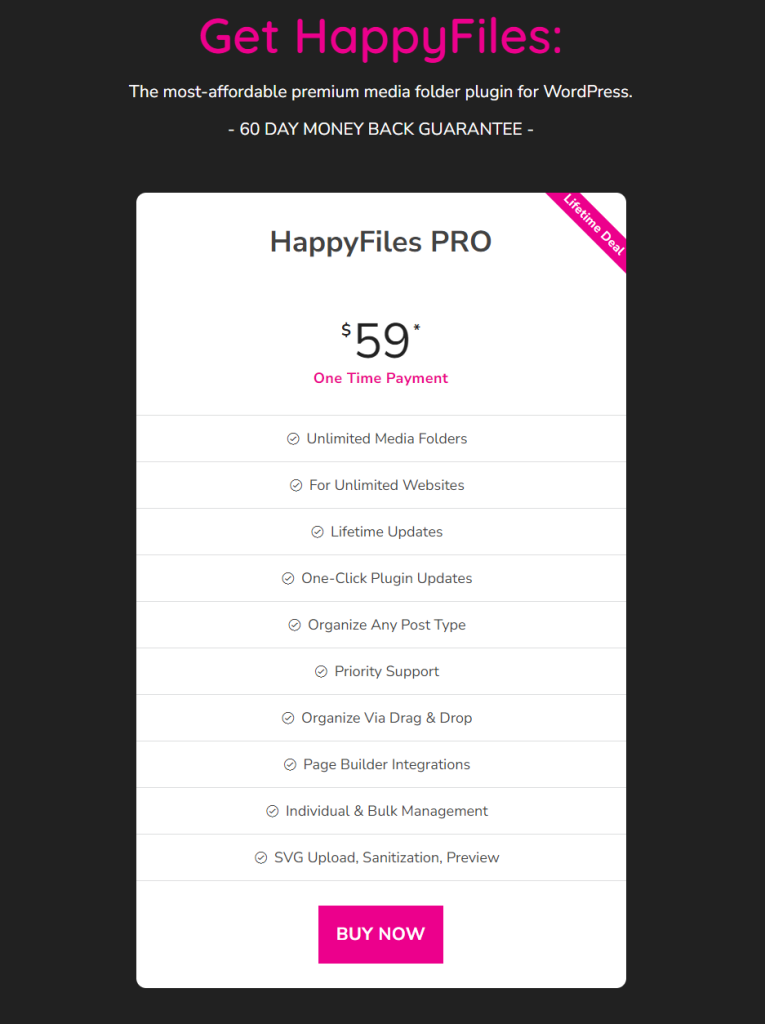 They do not have a free version plugin. For a one-time fee of $59, HappyFiles is worth it. You should try the tool since you get unlimited website licenses, lifetime updates, and support.
If you are unhappy with the purchase, you can claim a complete refund within the first 60 days.
How to Use HappyFiles Premium
This section will show you how to use HappyFiles for media organizing. The first thing you need to do is, install and activate HappyFiles on your website.
Once you have done that, you can see the plugin's configuration under WordPress settings.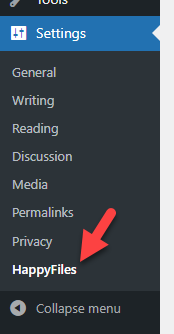 There are multiple configuration options you can tweak.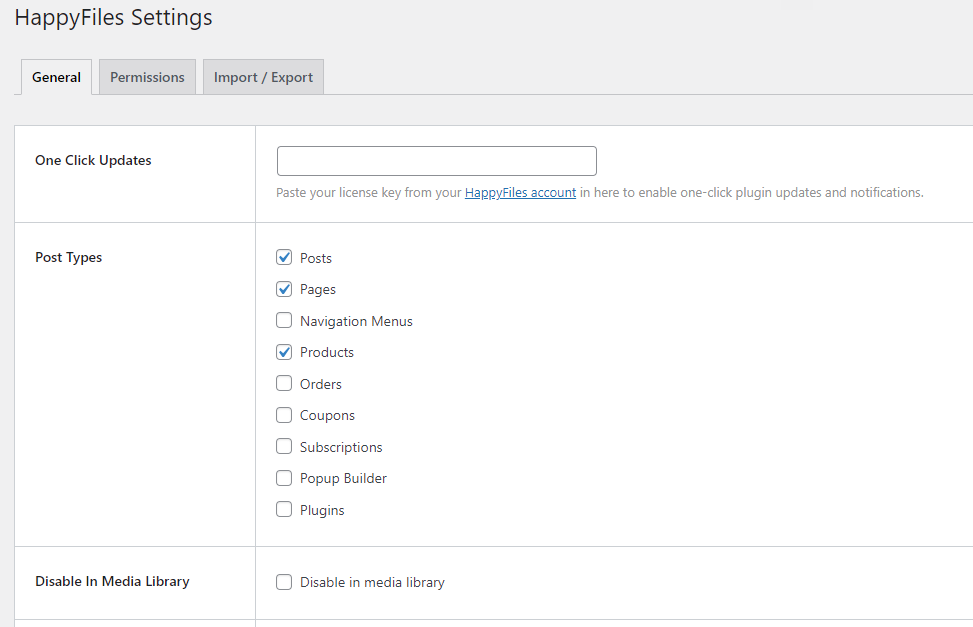 Based on your preferences, you can modify the options. One of the main things you should do is enable the post types where you need this plugin to work.
Once you are done, go to Media Library.
The left-hand side will show you a new option where you can see all the folders you have created to manage the media files.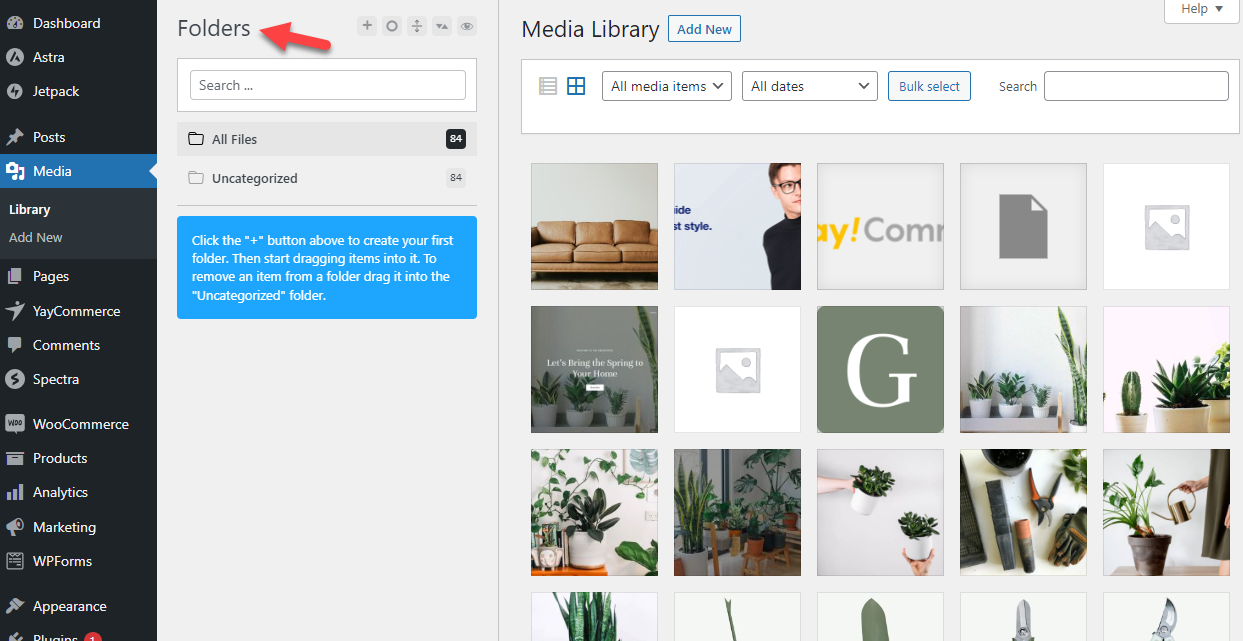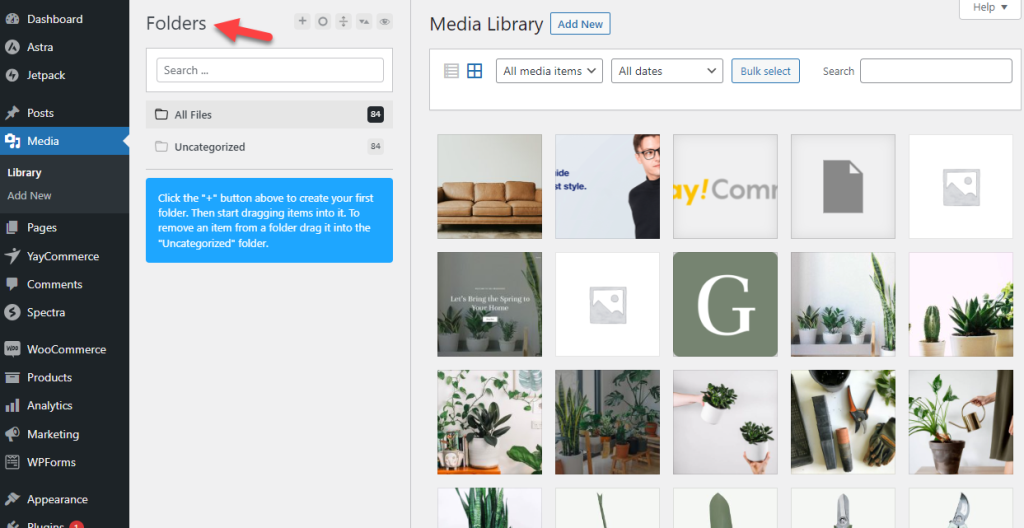 You can create a folder using the + icon.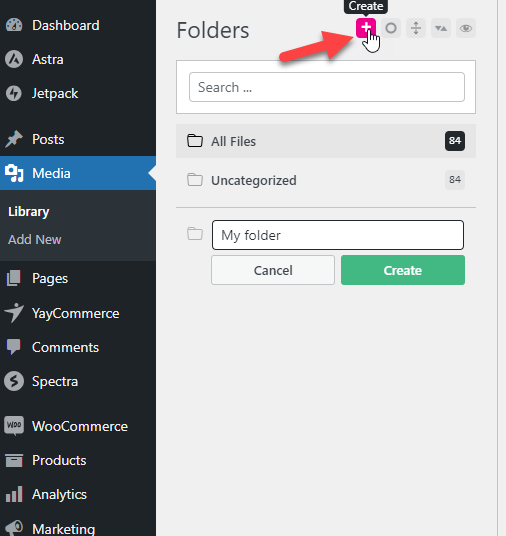 When you need to move your existing media files to a folder, select the file, drag it, and drop it inside it.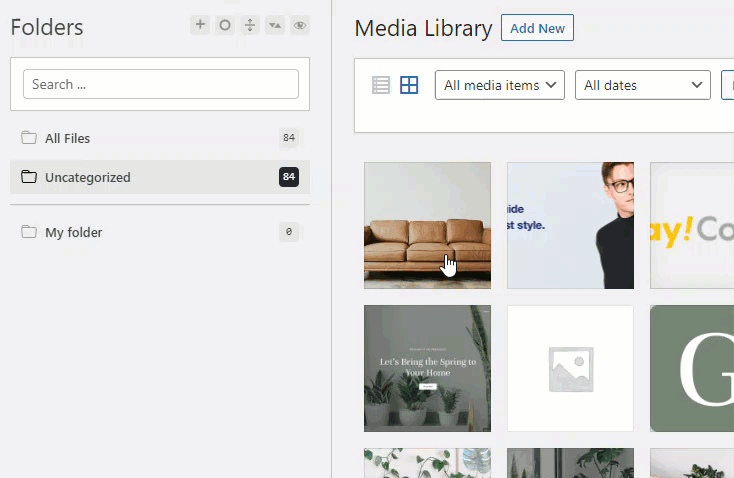 Next, you can check the folder to verify the changes.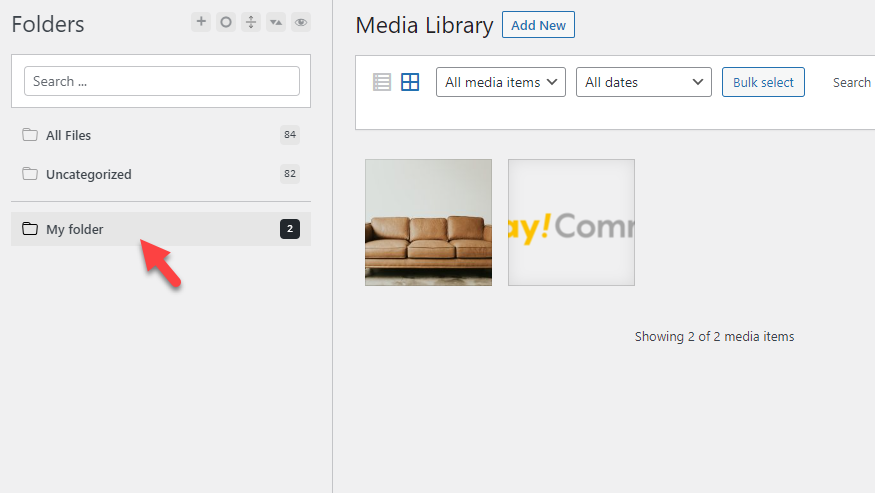 On the other hand, you can also create a folder and upload every media file directly to it. While you are working on a new blog post/page and need to manage the files, this would be a simple way to organize the media files without hassle.
The plugin also comes with a sorting option where you can sort the folders based on
Name
Date
Modified time
Author
And so on. Since the plugin is compatible with most WordPress themes and plugins, there won't be any issues using it on your websites.
That's it!
This is how you can use the HappyFiles plugin for media management. You can create unlimited folders and organize files this way.
4 Best HappyFiles Alternatives (Best WordPress Media Folders Plugins Compared)
If you are looking for the top HappyFiles alternatives, check out these options:
CatFolders
FileBird
Media Library Organizer
Wicked Folders
Let's quickly look at each plugin and see its unique qualities.
1) CatFolders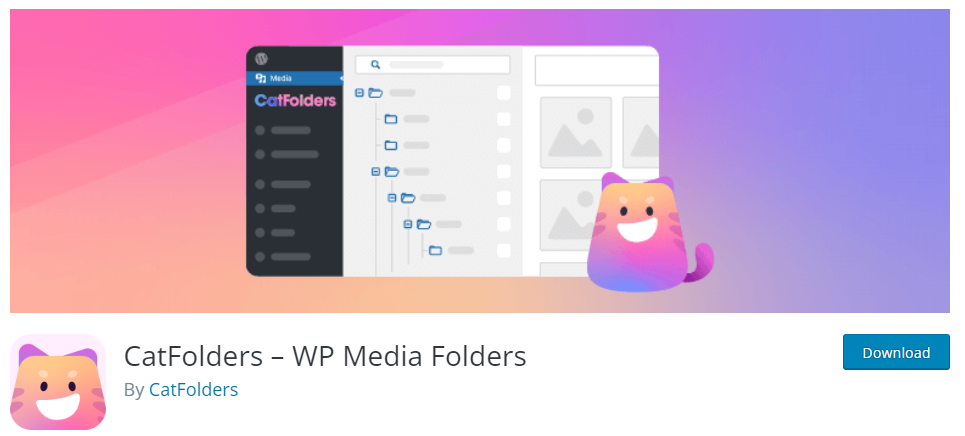 When you prefer a feature-rich plugin for managing your media, check out CatFolders. CatFolders has great features that will help you easily manage the media library.
Since it has a drag-and-drop wizard, you can easily drag and drop images/files to target folders. This makes the file organization part simple.
The plugin also supports migration from popular media plugins like FileBird, HappyFiles, Enhanced Media Library, etc. So if you are already using a plugin to handle your media and need to move to CatFolders, you can use the import feature.
This way, all the files, and folders will be organized like they used to be.
Features
Elegant user interface
Easy to use
Grid or list view
Collapsible folder system
Sorting options
Folder access permissions
Pricing
CatFolders is a freemium tool. You can get the free version of the plugin from the WordPress plugins repository. The premium tool costs $79 a year for a single domain license and $159 (one-time) for lifetime subscriptions.
2) FileBird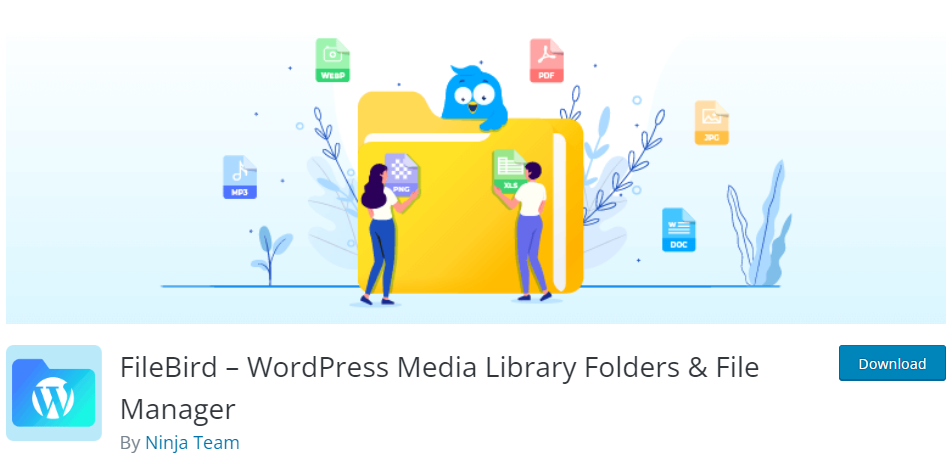 When you need a powerful plugin to handle all media files, FileBird is the only plugin you need. It makes organizing files a cakewalk. The plugin comes with several themes, and the UI is friendly, welcoming for beginners.
FileBird also comes with lightweight code. Hence, the plugin won't cause any issues regarding speed and performance. With the tool, you can organize thousands of files without any hassle. So many people are using FileBird to make their life better.
Features
Change folder color
Custom folder themes
Optimized for performance
Smooth auto-updates
Great user interface
Pricing
FileBird is a freemium tool. You can see the free version plugin if you check the WordPress plugins repository. The premium version is sold through the CodeCanyon marketplace, and you can get the tool for a one-time fee of $39.
3) Media Library Organizer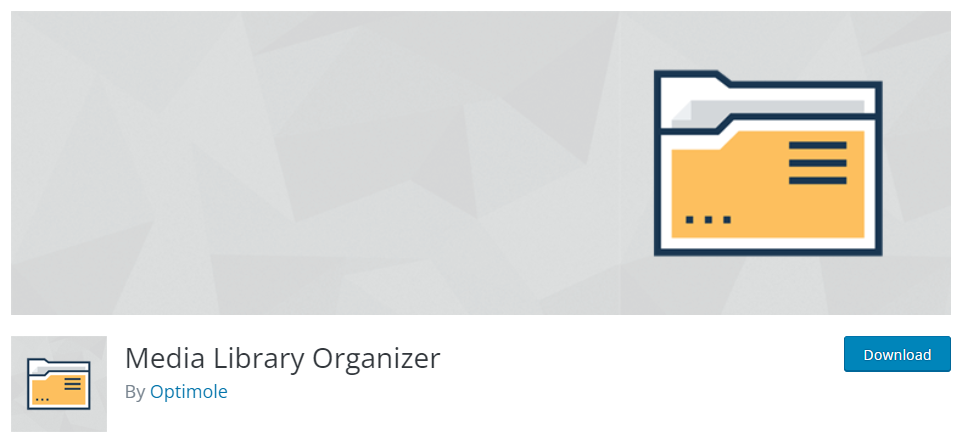 Media Library Organizer is another option for you regarding media management. The plugin also comes with some powerful features. The auto image categorization feature is advanced, and you can improve your productivity by letting the plugin decide how to categorize images.
Another great tool feature is that it is optimized for page builder plugins. If you need to transfer data between websites, you can use the import/export feature. This way, you won't lose any configurations and can have the replica of the first site's configuration.
Features
Auto image categorization
Bulk edit
Duplication
Optimized for page builders
Sorting option
Pricing
Media Library Organizer is a freemium option. The free version plugin has limited features and can be downloaded from the plugin's repository. The premium plugin costs $79 a year for a single domain license.
4) Wicked Folders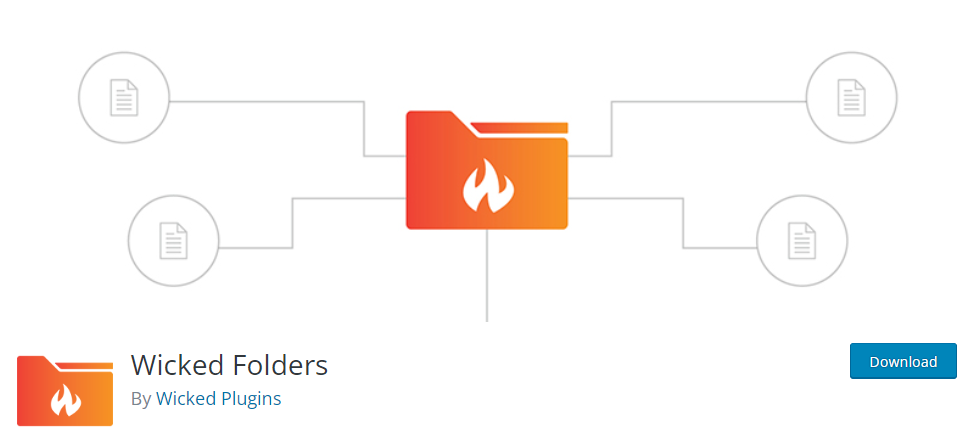 Wicked Folders is more than a typical media organizer plugin. Besides the media, the plugin can help you organize users, plugins, WooCommerce products, coupons, orders, TablePress tables, and Gravity form entries. Wicked Folders is a great fit if you are looking for a complete organizer plugin for WordPress.
Since the WooCommerce integration is so popular, you can use this plugin on your online store to manage the content and folders organized. Organizing the folders is simple; you only need the drag-and-drop feature.
The wicked folder is also optimized for RTL. This is ideal if you blog in any right-to-left language, such as Arabic.
Features
Optimized for WooCommerce
Clone folders
Search folders
RTL optimized
Bulk items moving
Dynamic folders
Pricing
Wicked Folders is a freemium WordPress plugin. You can visit the plugin's repository if interested in the lite version tool. The premium subscription starts at $49 a year.
Conclusion
When you manage a content blog where you must upload many images, handling and organizing them could be a hassle. Imagine how easy it would be to have a perfectly organized media library.
In this HappyFiles review, we have shown you which plugin is the best and also the main features of it. While testing the plugin, we found that the plugin could be a good addition to every WordPress website that needs media management. The downside is that it doesn't offer document management and gallery features.
We hope you have found this HappyFiles review helpful and enjoyed reading it. Please consider sharing this boost with your friends and fellow bloggers on social media.
Are you planning to organize your media library properly on your WordPress site?
Let us know which plugin you are going to use for media organizing.