Google Analytics is one of the most popular web analytics tools available today. It is used by millions of website owners and webmasters to track website traffic and activity. The Google Analytics WordPress plugin is a must-have for any WordPress website. It allows you to easily connect your WordPress site with your Google Analytics account and collect data about your website visitors.
Why Would You Use a Google Analytics WordPress Plugin?
There are many different Google Analytics WordPress plugins available, but not all of them are created equal. Basically, they all retrieve the reports from Google Analytics, and show only the metrics that matter to you the most. The differences lie in the analytics dashboard presentation within your WordPress site, the weekly/monthly email notifications, up-to-date behaviors, and other features like getting informed when there are special events or surges.
In this article, we will take a look at the best Google Analytics WordPress plugins for e-commerce websites. 
1. MonsterInsights – Google Analytics Dashboard for WordPress


MonsterInsights offers an adaptive and responsive design. It adjusts the wide range of parameters as per the overview of site performance. It optimizes the layouts of the report panels to deliver the whole picture even at a quick glance.
It sends you emails to notify you of the weekly/monthly changes. You can click on the links in the email to quickly jump to the dashboard page without having to navigate among tabs and dimensions in Google Analytics.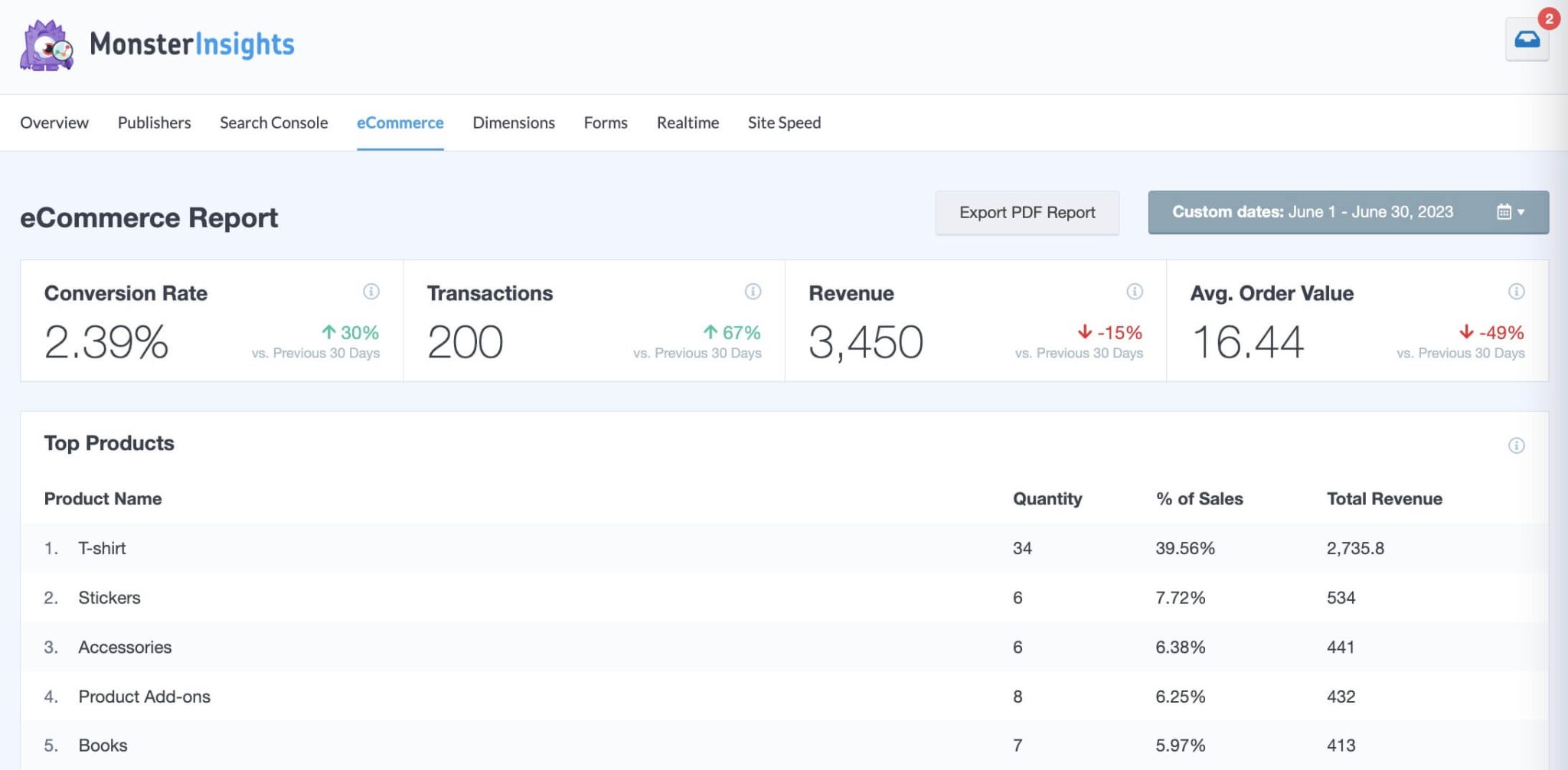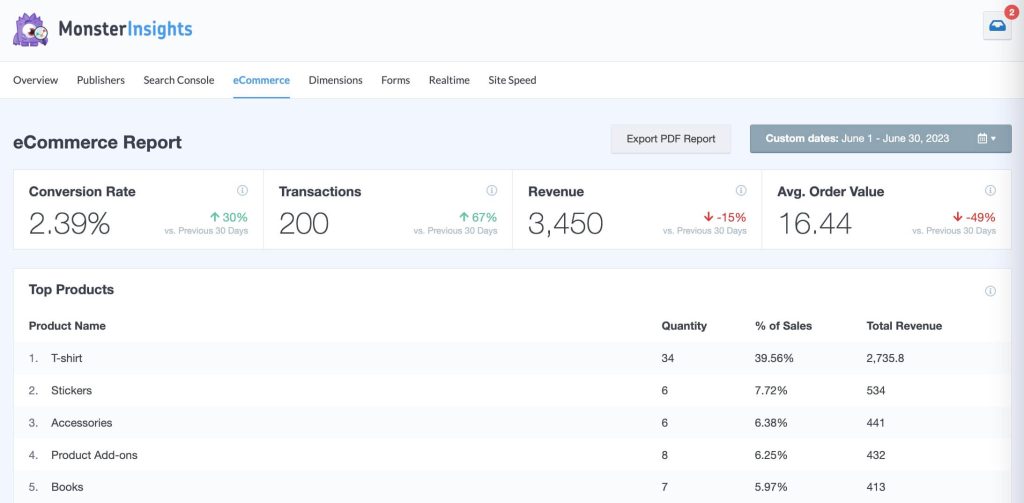 But the use of this plugin is not limited to viewing reports. It enables you to see page speed and run audit sessions when needed.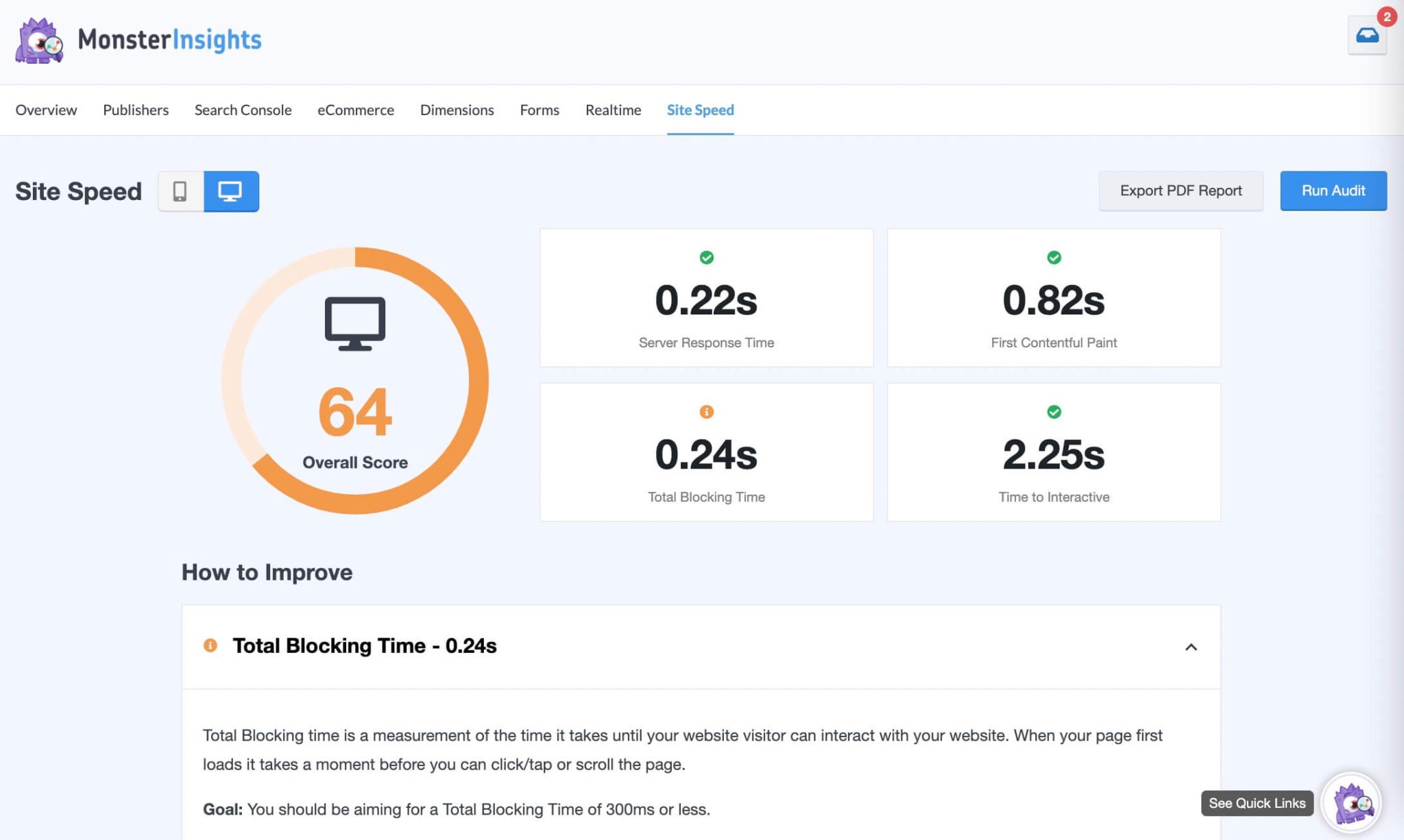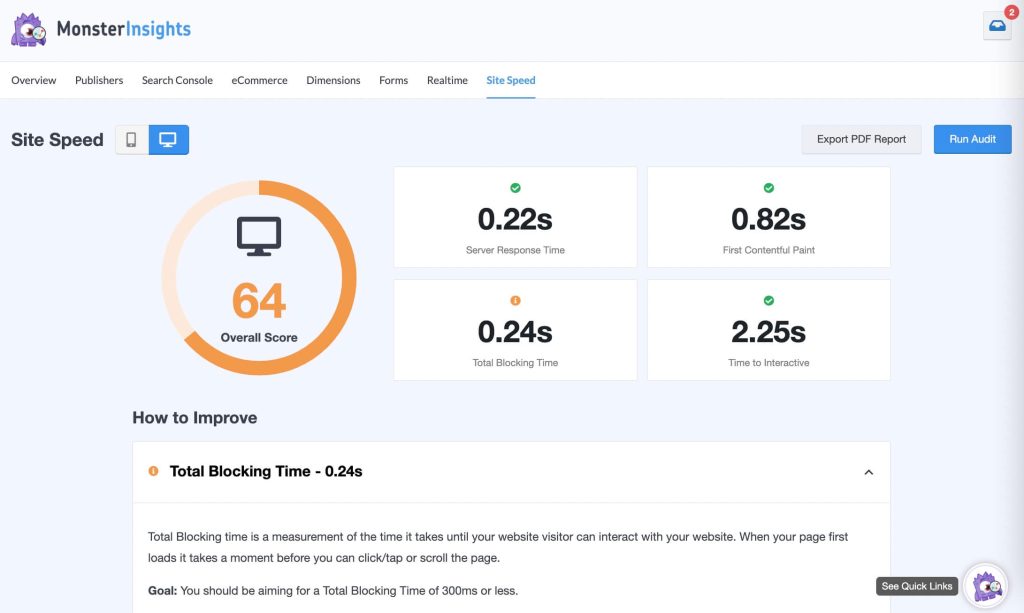 On top of all this, you also have the options to dive into lots of metrics that you care about:
Search console: See top Google search terms that lead to your web content.
Top landing pages and exit pages including engagement measures like scroll depth, bounce rate, outbound link clicks, etc.
Moreover, you can install the MonsterInsights Forms addon to view custom dimensions reports.
2. Independent Analytics – Google Analytics Alternative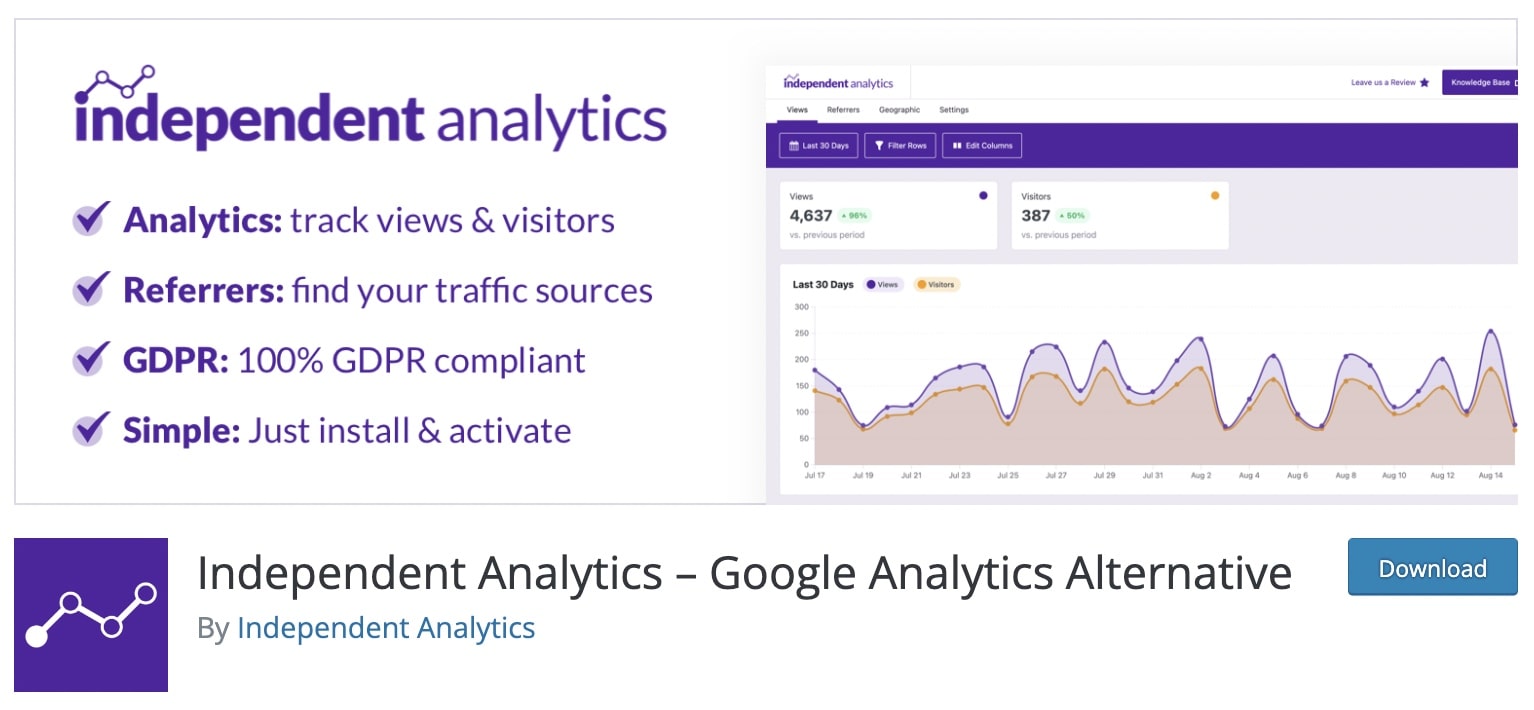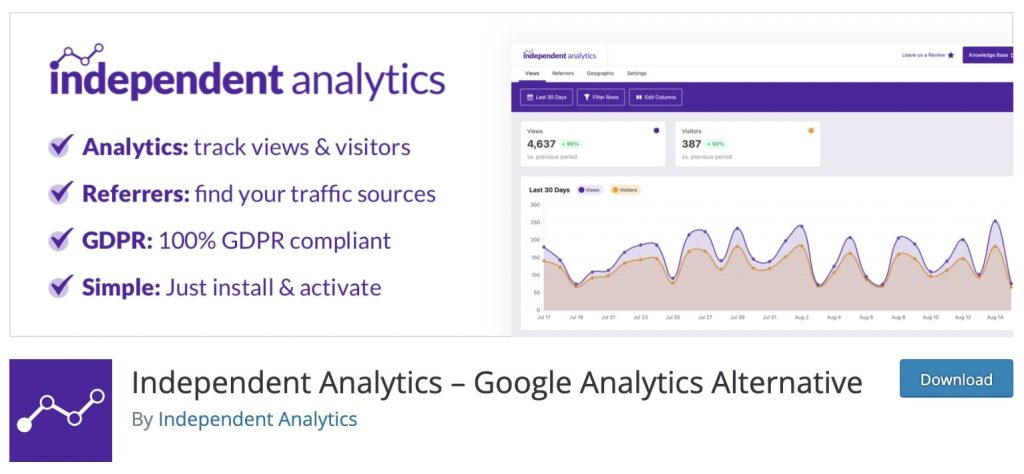 Independent Analytics is a standalone page-based analytics system.
You'll see all your familiar pages, like blog posts and categories in addition to an overview of how many visitors are engaging with each part of your site. It's simply giving you a complete picture without having to gather data from multiple sources yourself!
This plugin can be an ideal choice when there are no more third party cookies.
Features:
No tracking codes: You don't need to create an account somewhere else and copy/paste their tracking codes.
Referrer report: View referral sources and compare traffic between search engines, social media sites, and other referrers.
Geolocation report: Easily use a world map of those countries where your visitors came from.
Search tracking: Explore searches on your site and get to know what people are interested in when they step in your site
SEO enhancements: Find 404 errors you missed, filter your analytics by page type, etc.
Friendly dashboard: Beautiful data charts, quick stats for views, view growth, events, and so on.
3. Analytify – Google Analytics Dashboard For WordPress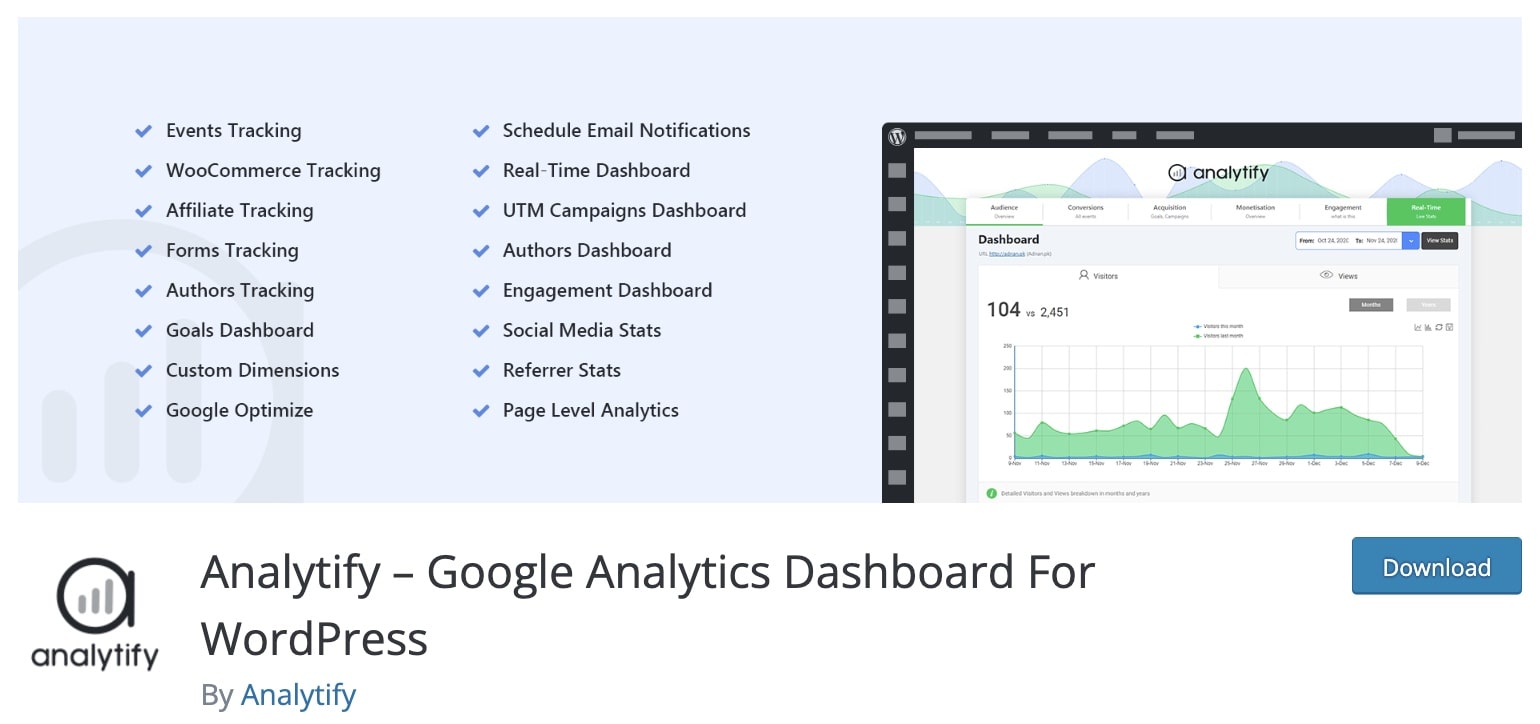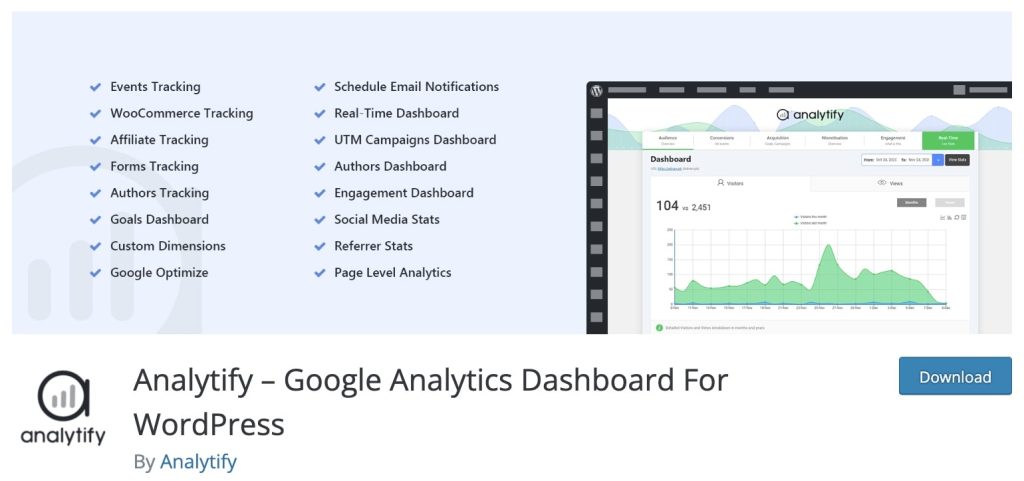 Analytify is a powerful Google Analytics plugin for WordPress that lets you see all your important Google Analytics data right inside your WordPress dashboard. It includes a beautiful, easy-to-use interface that makes it easy to view your website traffic data and analytics reports.
Analytify also includes a wide range of features, such as email reporting, SEO integration, real-time stats, conversion tracking, and universal tracking. With Analytify, you can easily see how well your website is doing and where you need to make improvements.
Features:
Multi-lingual: Fully available in French, Turkish, Dutch, German, etc.
Compatible with GDPR plugins like CookieYes and Cookie Notice & Compliance.
Provides key insights on the following metrics: Average order value, revenue, total transactions, items removed from the cart, and more.
Tracking forms, authors, and Google Analytics goals.
4. Google Analytics Dashboard for WooCommerce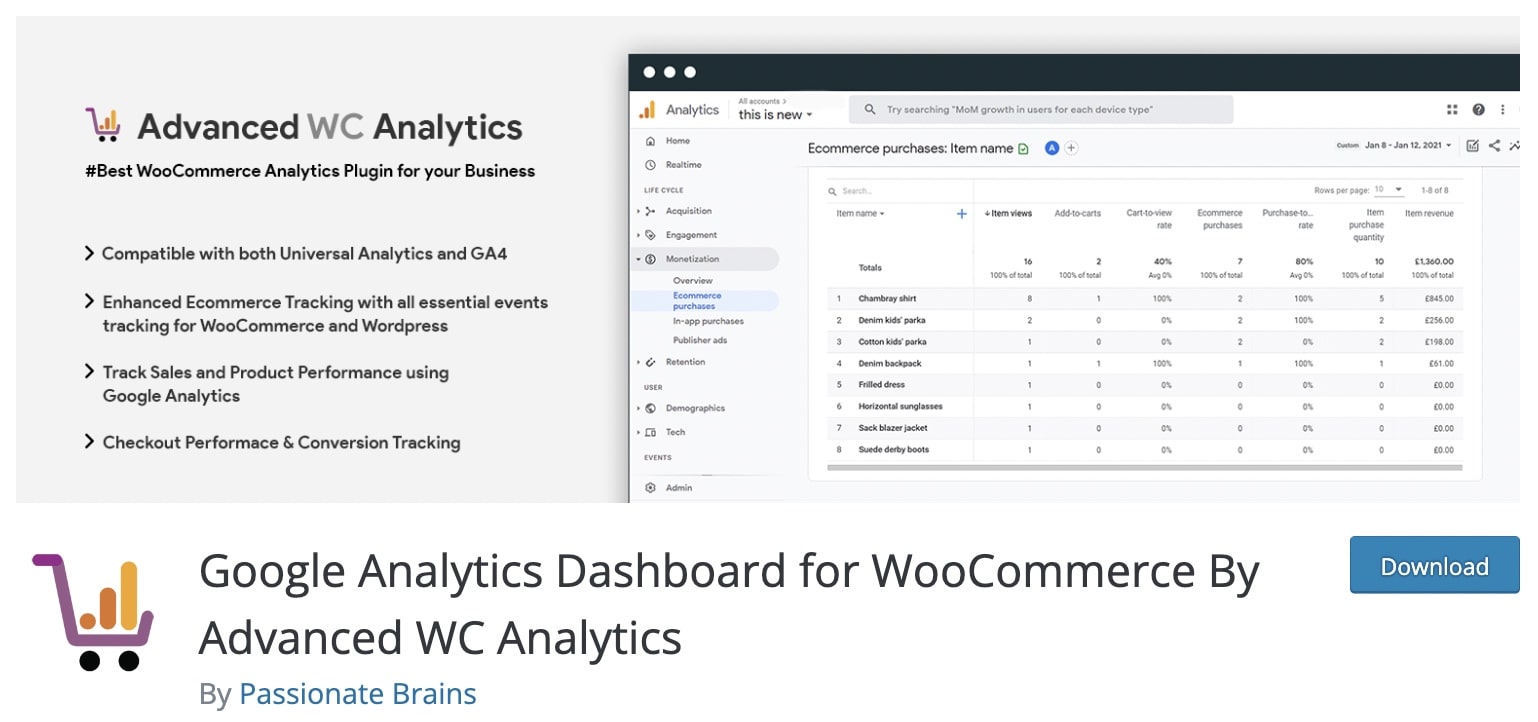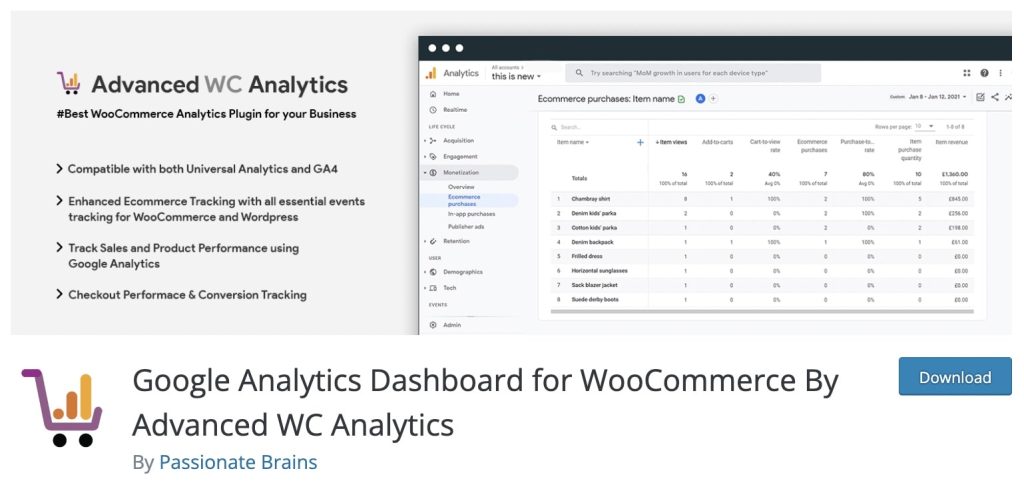 It is important to keep an eye on your online store's website performance with Advanced WC Analytics.
Google Analytics native functions in this plugin provide better insight with less overhead. So we recommend switching back if possible but at least make sure these are enabled before upgrading since they were removed from previous versions.
Tracking customers based on user ID.
Differentiating event links using enhanced link attribution.
Tracking product impressions on single product pages and archive pages.
Refund and cancellation data tracking.
Data Reporting integration with Facebook Pixel.
Google Ads Conversion tracking and re-marketing integration.
5. Beehive Analytics by WPMU DEV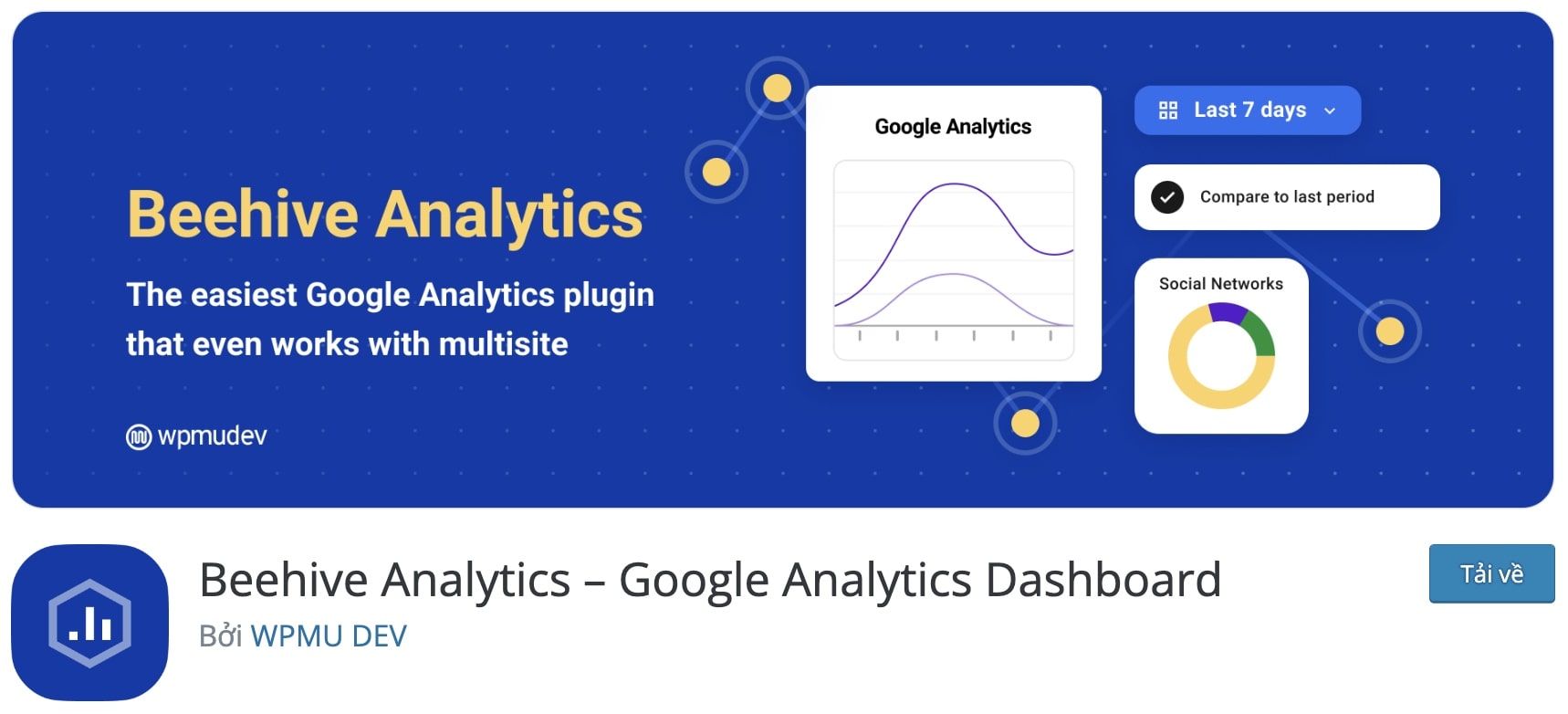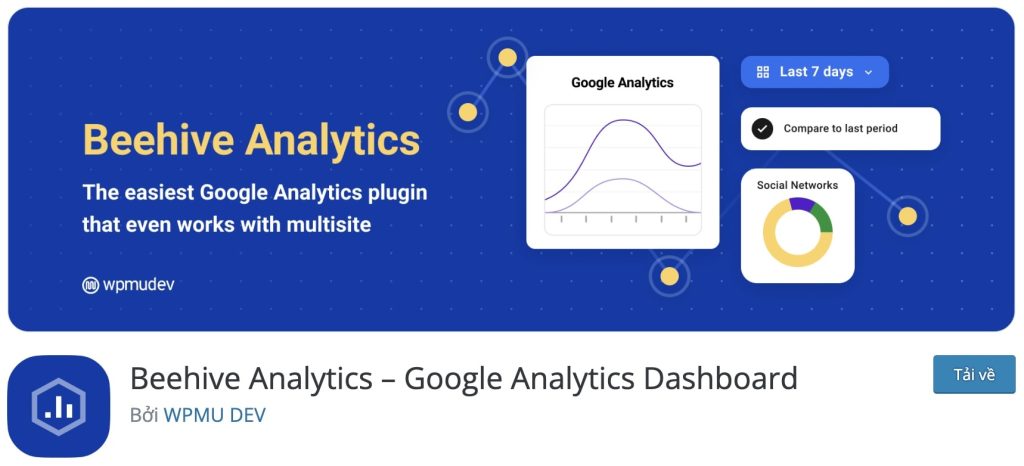 Beehive Analytics is the trusted analytics dashboard and reporting for WordPress. It's part of the premium subscription with the WPMU DEV team, an all-in-one suite of WordPress plugins, services, and maintenance support.
It allows you to view these reports:
Top Countries: See what part of the world your visitors are coming from.
Most Visited Page: Know what pages are being visited and how long your guests are staying
Trends Report: Watch for trends and improve content based on user behavior
Source/Medium Report: Get an idea if your traffic is direct, email, referrals, social or organic
Search Engines Report: Know what browsers your users are visiting from so you can perform better tests for your site.
6. WooCommerce Google Analytics Integration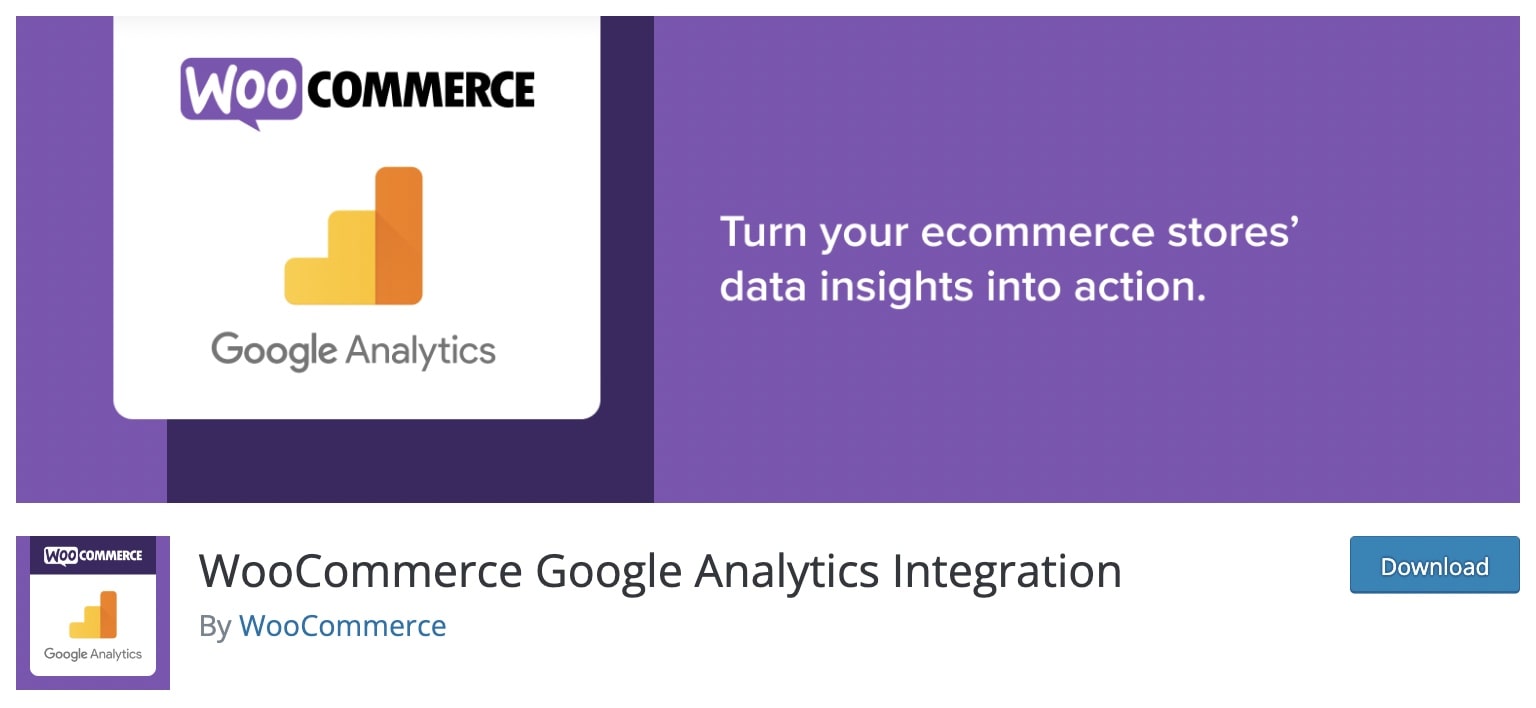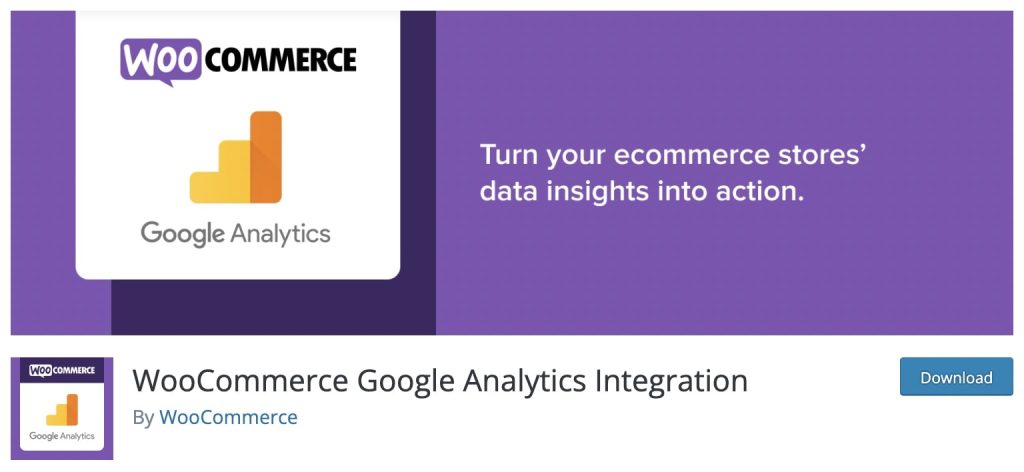 And of course, this list can't be complete without WooCommerce Google Analytics Integration provided by WooCommerce themselves.
Its dashboard displays quite a different set of categories compared to the above-mentioned plugins. I would say it aims to optimize for e-commerce.
Orders: View sales by date/product/category, coupons used, and customer downloads.
Customers: This shows customer list, customers vs guest checkouts.
Stock: This tab allows you to quickly see the low in stock, out of stock, and most stocked items.
To increase your sales, you can consider creating dynamic pricing and discounts in WooCommerce. Depending on criteria like item quantity, product category, and customer role, your customers will get tailored discounts. If you are a WooCommerce business owner trying to improve ecommerce pricing strategy, you should consider using YayPricing.
7. ExactMetrics – Google Analytics Dashboard for WordPress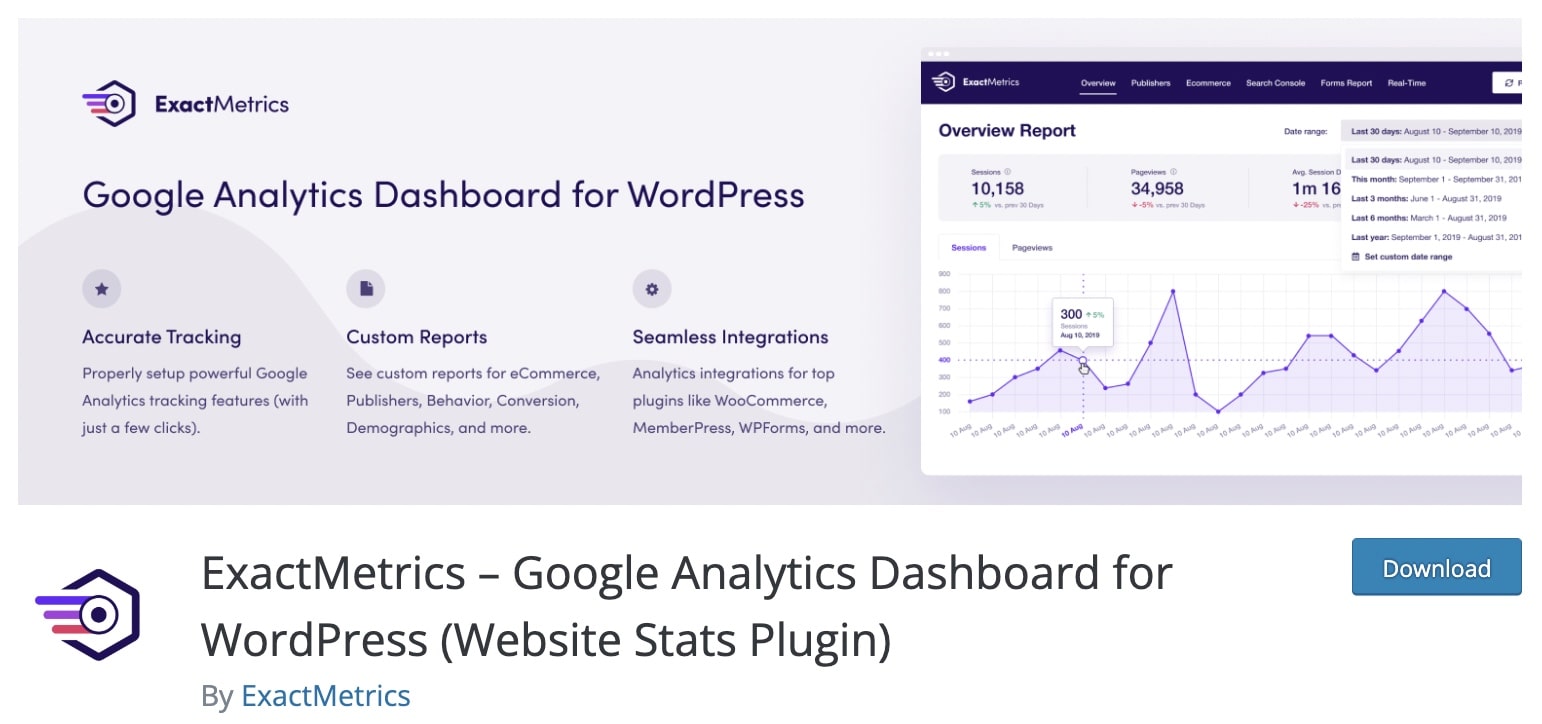 ExactMetrics provides a comprehensive integrated Google Analytics reports dashboard for WordPress.
If you own an online store, this plugin would be a fantastic sidekick to help you get quick overview of your store performance. For instance, in eCommerce reports, you will be able to see these reports at a glance:
Conversion rate
Number of transactions
Revenue
Average order value
Top products based on percentage of sales, quantity, or total revenue
Most valuable conversion sources
The downside of this plugin is that when you have a lot of traffic, it can cause the database request times, and response times for WooCommerce analytics reports will increase as well which could reduce how quickly pages load or even worse – slow down our site altogether!
Conclusion
Stop guessing about your digital marketing performance. With the help of these WordPress analytics plugins, you can see how successful each post was. And gain further insights into what's going on with your web pages or which aspects to be improved – without having any technical knowledge!
Recommendations?
Independent Analytics – This is the best choice if you're looking for a free and standalone solution for your WordPress website.
MonsterInsights – A prestigious one but its pricing plans could be way too high. Consider this one if your store is already growing and looking for ways to scale up.